The News has become a dark place, and February 24 was a darker day than most. For a couple of months I felt crushed, dodged war reports, hunkered down in helpless anguish.
Then one day an email dropped into my inbox from The Real Bread Campaign, reminding me that there was indeed something I could do. I could bake!
I managed to enlist a few other like-minded bakers, and an idea was born. A healthy baking bake sale!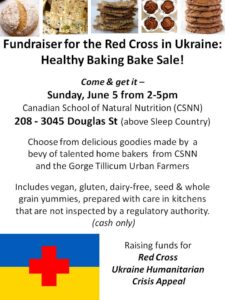 And so it will be, this very weekend. We're defining healthy in any way we choose; the only condition being an ingredient list so buyers can decide if our views match up.
I'm still deciding what to make. So far I've made some favourite crackers – cassava flour – and some sourdough flax crackers. Planning to make some banana bread (GF) and some chocolate-coconut truffles; some muffins; maybe if there's time some cookies too.
By other hands we also have GF / vegan peanut butter choc chip cookies, rhubarb bars, savory muffins and homemade Twix bars; and some magnificent gluten free olive bread and GF "fake rye" bread.
Our bakers include CSNN grads and GTUF members and I thank them for their generous donations of food and time. Quality cooking takes quality ingredients, and great care. I'm hoping we'll get a good turnout on Sunday afternoon and be able to turn over some needed funds for the Ukraine Humanitarian Crisis Appeal. Any leftovers will be donated to a local community kitchen or two.