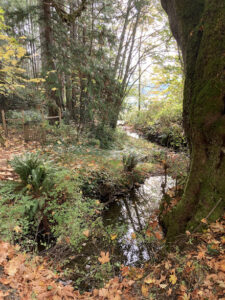 I travelled to Salt Spring Island at the start of November for a couple of reasons: but mostly to take a turn as featured reader at the Poetry Open Mic series, at the Salt Spring Library. Mercifully arrived between rainstorms and enjoyed a couple of sunny days along with the rainy evenings. I was in town the week after the Saturday market ended and there was a distinctly autumnal feel to the farm stands, where squash and apples and firewood had taken the place of summer vegetables and berries.
Once I'd firmed up my travel dates, I scheduled a Salt Spring social for local Writers Union of Canada members while I was there, because the night of my reading was also the union's 50th anniversary, and I thought we might toast its continued success, armed with our 50th anniversary TWUC cookies and a glass of bubbly.
So on the first of November, nine of us met in local writer and artist Briony Penn's beautiful home. Writers had come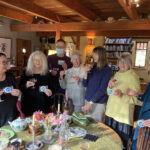 from Nanaimo, Sidney and Victoria as well as Salt Spring. Conversation swiftly broke out, with discussion ranging from difficulties of getting published, to the looming intrusion of Artificial Intelligence in the writing life, whether through books being used without permission to train AI, through the use of AI for editing our writing, or through AI's replacing live writers for the kind of stock writing – ad copy, product descriptions, copy editing – that pays the bills for so many writers. We talked about copyright and the dramatic decline in payments to authors for use of their works, and about the origins of the union in 1973, and the 'good old days' of in-person AGMs where motions were thrashed out, debated, reversed and revised in the pub after hours – and how to carry this spirit on with today's challenges: much larger membership (2,600), members scattered across the country, carbon footprints, availability of virtual meetings, and questions of time, expense and accessibility.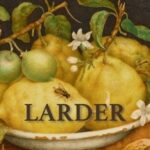 A heavy rainfall overnight gave way to a sunny afternoon, and an opportunity to browse the food shops, galleries and oddities in Ganges. My reading was gratifyingly well attended, given the dark and dribbly weather. Half a dozen local poets kicked off the evening by reading at the open mic, and only one of these fled the scene before my reading (over the years, I promise you I have been at many readings where the room virtually emptied after the open mic!). I read then, mostly from Larder, and then braced myself for resounding silence at the utterance of "any questions for our reader?" But was surprised at the animated and interesting questions that came up… anything from whether there were subjects I couldn't write about, to whether writers can make money selling books?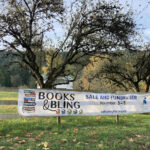 On departure day, I couldn't resist stopping in at the annual monster book sale which raises funds for literacy on Salt Spring. Books and Bling attracts a lot of readers – early arrivers were  lined up around the barn at the Farmers Institute when I got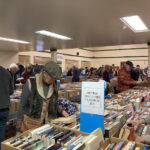 there shortly before the 10am start, armed with shopping bags and boxes that predicted lively sales. It takes a team of volunteers to run these things, and I was impressed by the efficiency and patience of all concerned, as I trundled off to the ferry with my 3 books and 1 bit of bling!