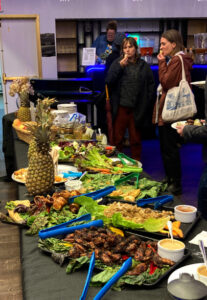 As the organizers might have expected, registration for this evening on the circular food economy mushroomed when it was known that food would be offered!
Turns out there's a lot happening in Victoria to rescue food from grocery outlets, then sort and redistribute it in various forms.
In keeping with the presentations, all the food on offer had been donated or rescued and then prepared for the participants. The buffet was vast and included  vegetarian, vegan, omnivore and gluten free offerings. All the items were the same or similar to what would be provided to the recipients of some of the organizations represented. There was a predictable surge of interest in sampling some ice cream from 49 Below, and when we had eaten our fill, Mustard Seed's chef Chris Hammer came out for a bow and a word on his creations.
Speakers represented a wide range of food waste and food security groups: Mustard Seed Food Bank and the Food Security Distribution Centre; Love Food Hate Waste, which targets food waste in the home;  the Food Share Network which coordinates food security nonprofits; the South Island Farm Hub, which arose during the pandemic and continues to support local farmers with distribution; Reroot, which processes surplus food into meals for the Vancouver Downtown East Side; and Community Food Support, which provides a free fridge in Victoria's Rock Bay neighbourhood.