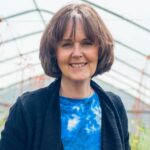 I'm a writer and editor with a lifelong passion for food and nutrition.
In 2007 I attended Slow Food's University of Gastronomic Sciences / Università degli Studi di Scienze Gastronomiche in northern Italy, earning a Master's in Food Culture and Communication. In 2014 I became a Registered Holistic Nutritionist (R.H.N.) after studies at the Canadian School of Natural Nutrition, where I've taught classes – Eco-Nutrition and culinary nutrition – for many years. My writing often features ecological themes and I've appeared on poetry or creative nonfiction panels at ASLE and ALECC conferences over the years. I have a deep understanding of food security and urban agriculture issues.
I've made a living largely from all kinds of writing: corporate, technical, magazine, creative and grants for many years. I've taught classroom, one-on-one and online courses and workshops in corporate training, creative writing and culinary/nutrition areas.
I'm also a poet and writer of creative nonfiction; my books are listed here. I've given public readings in venues large and small, and you'll find a small selection of my poems in print and in voice elsewhere on this website.
Please contact me if you'd like to book me for readings, writing work or a workshop (writing, cooking, nutritional topics). I'm currently based in Victoria, BC but Zoom friendly.
Want to like my Facebook pages? I have one for writing, one for nutrition, and one for food security & urban agriculture posts. I tweet (rarely!) as @iambiccafe and @golocalnut. I'm @Iambiccafe on Instagram but am slow in working up to that platform.