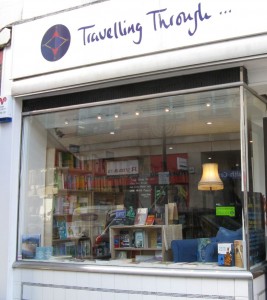 Last Wednesday's reading at Travelling Through Bookshop went well. A cosy crowd gathered in the downstairs cafe of this newly opened shop on Lower Marsh to hear poetry of place & travel from three poets. I was reading with Sue Rose and Tamar Yoseloff, poetry pals from way back. Sue and Tammy have small and lovely collections from Hercules Editions. Sue's is called Heart Archives, poetic responses to Christian Boltanski's Les Archives du Cœur audio installation and gorgeously assembled with her own photos. Tammy read from Formerly, which features her poems responding to Vici MacDonald's photographs of disappearing London. And I of course read from Ex-ville, which is perfectly suited to the reading theme, bristling with travel poems of many kinds. Thanks perhaps to Tammy's apt observation that the book was not otherwise available in the UK, I enjoyed brisk sales: thanks to all my book-buyers!
Lower Marsh is a rather special little street tucked away behind Waterloo Station. I was very pleased to happen upon Greensmith's, a very different kind of supermarket, made up of a kind of accretion of different independent businesses – butcher, baker, greengrocer, coffee specialist, and wine merchant – and together able to provide just about anything an urbanite might need to keep a small household going. In a pleasing patchwork of adjoining rooms where visitors find a happy surprise on every floor.
Hercules Editions takes its name from William Blake's last home and printing works in Hercules Road, Lambeth. I had a wander down this road and happened upon some ceramic reminders of Blake's time there. More about the mosaic project here.
Another wander down memory lane took me to Daquise, a Polish restaurant that's been around since 1947, clinging on in South Kensington through an era of fast food and chains. They've updated the decor since my last visit and now have their cooks serve at the table, which is quite fun. The menu has been upgraded too: almost sorry to find the borscht is not what it was (used to be thick with grated beetroot and other delights) but is tasty and elegant nonetheless.