Last week was another busy one in London. It involved a visit to Brixton market, where the pickings were far from slim. Brixton Village & Market Row is populated more by smart shops, delis and cafes than traditional fare, although there are still a few butchers, fishmongers and less chi-chi retailers.
We browsed the offerings in both these arms of the covered market, looking for lunch, and settled upon Salon, which has its eye firmly on well produced local foods – cheeses, cured meats, bread and delicious lunch items. We had celeriac & whey soup, a salad of cauliflower & turmeric and a pasty beautifully filled with parsnip, cavolo nero and cheese – and could only gaze enviously on the many other offerings remaining on the table. One must stop somewhere.
Meanwhile, in the poetry realm, I gave a reading last week at the Loose Muse's regular monthly series, co-starring with the delightful and entertaining Tania Hershman who read a few very short stories and recited some poetry in the first half. There were plenty of open mic readers – the series clearly attracts a supportive community of regulars, and there was as might be expected a good assortment of topics and styles. A good and responsive audience, but as is so often the case nowadays, not big book buyers. Which is their right of course, but tricky to predict when one is travelling in a transatlantic fashion with printed matter. Poetry tends to lack international distribution, so we poets are the hauliers of enlightenment, and it can be a heavy load.
Heavier still are books of photographs, and I had to resist picking up a copy of Dylan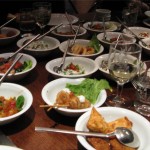 Thomas and the Bohemians, The Photographs of Nora Summers when I attended the closing reception for the photography show that had been gracing the Poetry Cafe's walls since early December. Afterwards we wandered off in search of food and settled on Turkish mezze at Tas, which offered an ample selection that ended very happily for me with a small glass of Tokaji Aszu.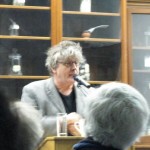 Last night's reading by Paul Muldoon at Keats House in Hampstead was a treat – hadn't heard him read before.  His reading manner is quirky, full of pauses and random interactions with the audience. He seemed amused by the readers in the front row who were following along in their copies of his new collection, 1,000 Things Worth Knowing, and paused from time to time to give them a page reference. His poetry is singular, challenging and complex, at times deceptively simple, at others tapping incalculable worlds of knowledge, waving come-hither flags of form and rhyme. Such are the poets to hear in person, hoping they will throw their readers a few clues. And it was delightful and absorbing.