I've been working in various cafes and public spaces lately, as my wifi access is variable in the places I've been staying. Today's most elegant setting is the lovely and unusual Brunswick House Cafe, which is attached to Lassco, purveyor of architectural salvage and and decorative oddities. Which I'm guessing makes this one of the few eateries where you can buy the decor. (Very tempted by some old medicinal posters, but luckily their frames would not fit in my suitcase.)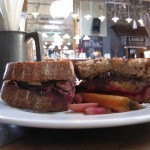 Last visit I had the delicious sounding salt beef sandwich, but it disappointed with old cheese and not much flavour from the beef or pickled beetroot. Was good and filling though. However, today's choice, Charred Hispi Cabbage with Lemon Mayonnaise, was most delicious in every way and very good with the nice fresh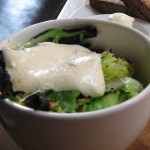 sourdough. Nice also to be able to enjoy a pot of lemon and ginger infusion on a chilly morning.
All of which fortifies me for this evening's entertainment – travelling to Keats' House in Hampstead to hear Paul Muldoon reading from his latest collection, One Thousand Things Worth Knowing.
Which should inspire me for my own reading tomorrow, with Tamar Yoseloff and Sue Rose, at Travelling Through's basement cafe. Snow is in the forecast but poetry will keep us all warm and dry.