Wednesday's reading with the Telltale Poets was great fun, and has been well reported by champion blogger and poet Robin Houghton (whose book  for blogging writers is essential reading – practical and well illustrated – for those wanting to take the plunge).
Went to a lunchtime talk at the Wellcome Institute on Friday, by epidemiologist Liam Smeeth from the London School of Hygiene & Tropical Medicine. He spoke very well on the state of epidemiological research in the UK, explained his role in untangling the confusion over the MMR vaccine in the 90s, and talked about some large scale research going on to track different cancers in very large populations. I heard distinctly Goldacrean echoes in his discussion of the value of using electronic medical records to improve medical research, and the all-important and extremely time-consuming work of checking data meticulously before reaching conclusions.
This week's poetic entertainment started on Sunday with the TS Eliot Prize finalists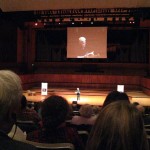 readings. These readings now take place in the Royal Festival Hall (capacity 2500) – a near sell-out from all reports. It was certainly a busy and overwarm venue, the proceedings beautifully presided over by Ian McMillan.
He introduced us, and more importantly the short-listed poets, to the notion of the poetry year. This he explained was like a dog year, but much shorter, lasting precisely 8 minutes. So each poet had one poetry year, and no more, to read… which included time for the poets to reach the podium, adjust their glasses and introduce the poems, though this part of the definition had not been entirely apprehended by all, including one or two of the most experienced readers.
Made me think nostalgically of the reading I attended at Toronto's Harbourfront, watching the gratifyingly pugnacious (in this instance anyway) Greg Gatenby walk onto stage to tell the equally pugnacious Irving Layton that he had exceeded his reading time. Many an audience member has sent out prayers for this kind of intervention which occurs too seldom on our over-polite stages. I've seen the other end of the spectrum too, at the Vancouver literary festival, where poets were sent to the podium which was rigged with a timer, set to go off at the end of their reading time. Surely there must be a happy medium.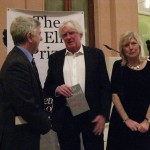 All that having been said, I name my favourite reader as Michael Longley, whose elegies to his twin were simple and strong. The eventual winner, however, was David Harsent, often nominated so a fair choice, though his reading style put me off, as a bit self-satisfied, and found his poetry too distant for my tastes, other than his poem Icefield, a good clean observation on climate change. Fiona Benson's poem Portrait with a Bandaged Ear remains a favourite – a powerful portrait of an abusive relationship that lost something for me, curiously, when I re-read the title and realized it was a Van Gogh poem. (You can read a sampling of poems from all the shortlisted poets, plus discussion notes here)
More excitement to come in my world anyway with another reading on tonight's horizon. I'll be reading at the Poetry Cafe in Covent Garden (22 Betterton Street, London WC2) tonight at 8pm, at the Loose Muse women writers' night. Open mic and a fellow reader I look forward to meeting and hearing: Tania Hershman. If you're around, come on down!