Last weekend I went on a fascinating, moving and timely tour of four Jewish cemeteries, which Tamar Yoseloff led, photographed and blogged here. I have a few photos of my own to contribute.
---
My last reading in the UK was on Tuesday in Cambridge. I enjoyed a day of wandering in town, which I hadn't properly done or perhaps not for ages. I poked my nose into a couple of galleries and had a look at the Ian Hamilton Finlay show at Kettle's Yard, but his work leaves me a bit cold. Though I enjoyed a few pieces – Catameringue was my absolute favourite – I either wasn't in the right mood for it or it's just not my thing. I found more to wonder over at Primavera, which stocks a huge and stunning selection of contemporary British jewellery, art and craft. I missed the reportedly wonderful show at the Fitzwilliam, but one cannot be everywhere at the right time. I did find myself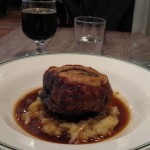 in the right place for lunch though: The Pint Shop was pleasant and delicious. I had the pork belly with Heaven & Earth (it was sat on a disc of black pudding and surrounded by pleasingly tart stewed apple) and washed it down with a modest little glass of Sirens chocolate porter, which was suitably dark and complex and worked well with the pork.
The CB1 Poetry venue has changed since my last appearance there some years ago, and is currently at the Gonville Hotel. The granting agency requires the series to offer disabled access, which unfortunately narrows the options and cuts the charm of available spaces. Still, the organizers have done their best to soften the corporate feel of the room, and aside from a bit of spillage from the Rotarians meeting next door, it was a comfortable and well equipped reading space. There were some good readings from the floor before Rebecca Perry and I took the stage. Rebecca's work was great – varied, funny, edgy and moving. She works a lot with found poems and deconstructions. We had a good natter on the train back to London and I look forward to having a closer read of her first collection, Beauty/Beauty, when I have time to catch my breath.
And I've been walking around London getting a few last views in before I leave next week.
---
The last couple of days have involved dining out – lunch in Brixton with poet pals at a restaurant I've undertaken not to discuss but whose very interesting work is described here, and lunch in Whitstable with Kent poet Sue Rose and Canadian poet/novelist Steve Noyes. And… I attended a British Nutrition Foundation half day seminar on fibre research, and have discussed that in more detail at my nutrition blog, Go Local Nutrition.