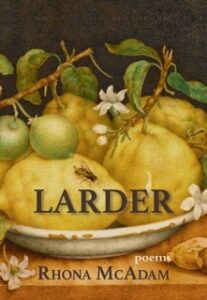 And the winning cover image turns out to be.. Still Life with Bowl of Citrons, by Giovanna Garzoni. Very pleased with the look of this one.
Much as I would have liked to feature the work of a living woman artist, Garzoni is an impressive figure in art history, and the Italian connection is satisfying, given the presence of poems written during my studies in Italy.
I had wanted something food related, but also to bring in the natural world. The insect figure may or may not be a wasp; but for purposes of this collection, that's what we're calling it, to chime with the wasp poem within!
The book will be out sometime in May, but pre-orders can be taken now by visiting Caitlin Press.
Upcoming readings and appearances are on my News page, which I'll update as details change or get added. But here's what's coming up in the next couple of months: