There is this now obligatory photo of authors opening a box of their books, the first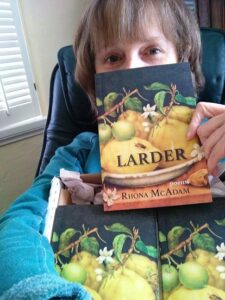 glimpse of the real object. You can send off pages to a publisher, you can get typesetting proofs, you can see the cover image, but it's not real until it's in your hand. E-books have their place in our world nowadays, but nothing beats a well-designed, genuine book, printed on real paper.  Here's mine.
I'll be reading from it at the Fat Oyster reading series, in Fanny Bay Hall on Vancouver Island, a week from today, May 12. If you're within reach, it would be great to have you in the audience! This marks the return to face-to-face readings for the series, post-pandemic.
There will be 3 of us reading: another Caitlin Press author, Arleen Paré, whose latest collection, Time Out of Time, riffs on the work of another poet, the Lebanese-American poet Etel Adnan. Comox Valley poet Kelly Madden will be there too, reading from her first collection, If I'd Known.
Here's our poster: