Last night was the first poetry reading I've given in a good long while, and the first at the Fanny Bay Fat Oyster series for about a decade.. it seems my last appearance must have been a reading from Digging the City.
Last night we were blessed with an ample and responsive audience – clearly delighted to be emerging from a couple of year's worth of cabin fever, finally able to engage in an evening of cautious socializing – and three poets reading from new collections, all with very different styles and subjects.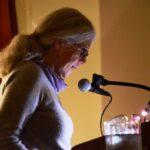 Judy LeBlanc organized us and did the introductions; Brian Latta took photos, did setup and sound; and a team of volunteers helped with promotion, took tickets, set up chairs, baked cookies, sold coffee and commanded the book table – all those things that go into running a good local literary event. My thanks to all involved.
First up was local (Comox Valley) poet Kelly Madden who read from her first poetry collection, If I'd Known, a series of compact, visceral poems about loss, abuse and grief. Victoria poet Arleen Paré, my Caitlin Press 'stable-mate', read from her seventh collection, Time Out of Time , a series of poems written as an affectionate response to the work of Etel Adnan and her Griffin prize-winning collection Time. And then I read a selection of poems from Larder – including "Aristotle's Lantern", "Skunk Cabbage", "Dog, Running", "Gravy" and "Devil Spawn of the Devil Grass Wheat".