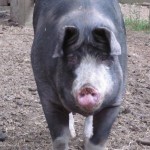 Cory Pelan loves lamb, and he likes it best in a farmer's field with lots of people bringing lots of lovely food to go with it. So yesterday afternoon he and the Slow Island convivium put on a summer party to raise funds for sending Vancouver Islanders to Terra Madre this October.
We sat on hay bales (invited to bring blankets to cover them) and watched the lamb turn on its spit until it was time to dine. Some idled away the time visiting the pig pens to see the heritage breed pigs that farmer Tom Henry raises there. Cory did the carving, assisted by Peter Zambri and watched by a host of hungry foodies.
By this time platter after platter of side dishes had arrived (I think it best to let the food speak for itself):
…and there was a groaning board of desserts as well.