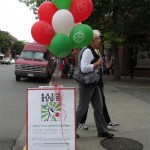 I'm a week behind in my entries, so here goes the catch-up. Last Sunday's Eat Here Now festival looked to me to have been enormously popular, with lots of food being eaten and bought and talked about in Market Square.
The square had been divided into an eating and entertainment side, and a vendors' side. Crowds seemed to be milling evenly between the two by the time I left, but as I arrived at lunchtime, I headed with sooo many others to the taste for a toony buffet provided by locally-oriented restaurants. Cosmo Meens, as always, drew a crowd, this time offering a curried tofu soup with focaccia, an offering from his new Hot and cold Cafe. Relish was there with a "Vietnamese sub" of house-smoked pork terrine and asian vegetables; Sooke Harbour House's lovely little quinoa salad with salmon, seaweed and other local delicacies, came with an all-too tasty edible scoop, but I'd be surprised if many of them lasted long enough to do their job. All in all it was a hard day for vegetarians: aside from those mentioned, and some mushroom ravioli from Cowichan Pasta, almost every stand offered meat; of which Kulu's spicy sausage got my vote, if only because it came laden with kimchi! (Luckily for the non-carnivores, Green Cuisine was open for business on the fringes of the festival.)
And then it was time to browse the vendors' stalls, which of course included Haliburton Farm, where Farmers Nate & Mike were holding the fort; Libby Seabrook was doing a brisk trade in InfuseTea (her blueberry & rosemary blend is to die for, just for the record); Fry's Bakery was selling mini-pizzas, blueberry scones and rather beautiful baguettes – can't wait for them to open their shop on Craigflower Rd, which is rumoured to be happening later this month. City Harvest was there with urban abundance, Wildfire had some tempting shortbreads (lavender and local wheat were my picks) and Sun Trio's tomatoes were as beautiful as the day was long and sunny.