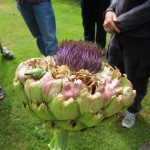 A group of Gorge Tillicum Urban Farmers visited the Garden Path last week, to have a look around at a garden going (deliberately) to seed.
Carolyn Herriot walked us round the garden she carved out of broom and bracken about 12 years ago, and which over the years has been an organic plant nursery, a source of local organic seed, and now a fruitful training centre for interns. Carolyn has increasingly turned her hand to writing and is awaiting release of her new cookbook, The Zero-Mile Diet Cookbook, which follows her last book, The Zero Mile Diet: A Year Round Guide to Growing Organic Food.
Here she checks artichokes, which are ready for seed collection when the flower turns to fluff. Her leeks are in bloom, to the delight of the many bees who visit the garden. And she showed us a box of peas that had been collected and put into a container for freezing. Although they'd been carefully checked for pea weevil, freezing the peas for several days would make sure that anything missed would not hatch.
Pea weevil is a problem in summer peas; any planted after June should be resistant varieties, as the weevils bore through the pods and into the peas to lay eggs, which hatch out and can stunt or destroy seedlings as well as ruining the peas for eating.
Below, Carolyn shows off her Jerusalem artichokes. Every year, she said, she digs them up and leaves none behind, and every year they gallop back larger than life: I am grateful I had only planted mine in containers, and even there they happily go on self-propagating. Another reliable returnee is oca (oxalis tuberosa), a hardy little tuber from Peru via New Zealand, which sports lush, four-leafed foliage and produces lemony morsels ideal for roasting. Carolyn has introduced it to our area, selling tubers at Seedy Saturdays for several years now, and they volunteer back each year. New this year is the asparagus pea (Tetragonolobus purpurea) which looked a lot like one of the wild greens we picked when I was in Crete – probably was the same, since this hails from the Mediterranean. Pretty and tasty.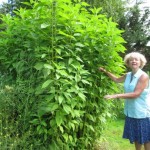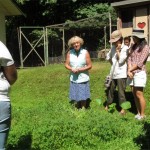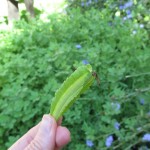 One other nov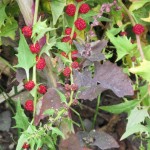 elty item Carolyn's been selling through Seeds of Victoria is the strawberry spinach (Chenopodium capitatum), which was rather beautiful.
After that it was time for a sip of juice – which Carolyn makes with a steam extractor – and a look at some of her seed-saving. We also got a pep talk about the gut flora which have become a great topic of interest to her through her research for her cookbook, as have recipes involving fermentation which feed those beneficial organisms.
Last weekend marked the 20th anniversary party and plant sale at the Greater Victoria Compost Education Centre, where a life-sized red wiggler was handing out gummi-worms and birthday cake, while outside were a number of vendors, including foodista turned tea-wallah, Libby Seabrook, offering some delicious herbal concoctions. Also spotted was Farmer Tina from Corner Farm in North Saanich, digging a nearly released local book.