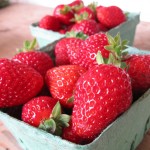 It's been a slightly wild week, and the weather's been bordering on raw at times, but I think we're safely and belatedly into our summer now, if a mild one. The strawberries think so, anyway. Farmer Ray's berries have been flying off the farm stand at Haliburton Farm this month, and even my own meagre crop of neglected strawbs which I strategically placed next to the bus stop have been yielding enough for a passing taste. I am rather touched that local travellers are too polite to steal a morsel from my garden. If it were at child level I suppose it would be a different story.
I was tempted back to the VIVA Raw Food Potluck on Sunday by the guest speaker: Roger Fouc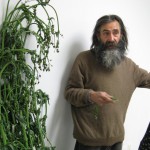 her, a local expert in wild foods. I'd seen him around – at the Duncan Seedy Saturday for instance, and knew he had given a workshop at Spring Ridge Commons that I wasn't able to attend, so it seemed an opportunity not to be missed.
Besides, coming up with a raw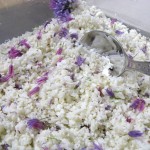 vegan dish is always an invigorating challenge. After meditating on my garden and what was on offer there, I settled on garlic scape pesto. The garlic was intense so I cut it a bit with tomato and cucumber, and served it with raw cauliflower "risotto" that I seasoned with sea salt and olive oil and prettied up with chive blossom, and "parmesan" "cheese" made out of walnuts, garlic and sea salt. And it went down a treat. We'd been asked to go easy on the salt, so I put a minimal amount in the pesto and "risotto" – I think people seized on the "cheese" as a way of brightening up some of the blander offerings. The "risotto" would make a good rice substitute (just as many recipes suggested cooking and mashing cauliflower as a potato substitute). I may have said before that one of my chief complaints against raw food is its lack of vocabulary and its devotion to the parent cuisine to which it pays tribute through endless approximation.. and endless quotation marks.
Other items of note included comfrey rolls, filled with sweet potato and fresh herbs and seasonings. The texture of raw comfrey leaf is not, to my palate, very pleasant, with a definite prickle. But comfrey is a much-treasured plant of many purposes.  There were a lot of salads, and lots of colour. This carrot salad was pretty, especially beside a beet and carrot salad. There was also a spinach and strawberry salad and a lot of cut fruit, which made me happy. And there were some energy balls (sunflower seeds, pumpkin, sesame, rolled oats, ginger, raisin etc) which were softer and, I think, less interesting than the variations I've had that are based on nut butters.
The meal over, we had an hour of talk and another hour of Q&A with Foucher, and didn't come close to exhausting his knowledge or enthusiasm for eating raw and wild foods. He follows ayurvedic principles when eating them, and suggests that it is in our own interests to explore more fully alternative food sources such as "weeds" and learn what nutritional sources are available outside conventional food systems (which are of course subject to changes and disruptions beyond our control).
He had brought many samples of the sorts of plants he eats regularly, and commented about the importance of understanding their life cycles: they are all best eaten in season, and most plants should not be harvested for teas after they have flowered and are beginning to form seeds, as the leaves become bitter and the plant's energy is directed to producing seed. He was expansive on the subject of wild lettuce (Lactuca virosa), which he said has been given to opium addicts as a nonaddictive detox therapy and which exudes a kind of latex that is a helpful cure for toothache. Oxeye daisy (Leucanthemum vulgare) he said would make an excellent tea together with yarrow; and he praised catsear (Hypochaeris radicata) for its flower's similarity to chocolate (I tasted some the following day and frankly could not sense that resemblance).
He has been eating wild plants for some  years and is more sensitive to their flavours and effects than most novices would be. He remarked that his sensitivity to bitterness has changed over time, and what seemed to him very bitter at first is now a pleasant and complex flavour. "Our palates are habituated to sweet things" he observed. "Bitter tastes take time and practice." Which was something I noticed in Italy, where there are far more bitter vegetables (radicchio, endive, chicory etc.); one of our tasting instructors told us that not everyone has sensitivity to bitterness, but I'm inclined to agree with Foucher that it is a matter of exposure. Here in the land of sugar, we avoid it and so never grow to appreciate it as a distinct flavour.
He recommended a few texts: there are many such books about but these are his favo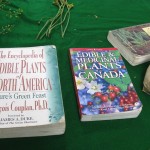 urites. The Encyclopedia of Edible Plants of North America is his favourite, but it contains no colour photos of the 4000 plants described, though there are some line drawings. Edible and Medicinal Plants of Canada is illustrated with photos and describes some 800 different plants. And Plants of Coastal British Columbia is, I'm sure, already in the libraries of most local gardeners (or should be).