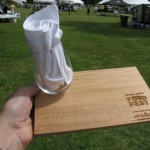 Sunday dawned gloomy and grey and I feared we were in for yet another chilly drizzly day, but things had warmed and brightened considerably by noon when the ICC Food Fest opened its gates to a sold out mob of gastronomes. We were each equipped with glasses, boards and napkins and set loose in the grassy grounds of Fort Rodd Hill for an afternoon's fine browsing.
There was a lot on offer, but not so much that a hungry diner couldn't manage to sample it all at least once. Hungry and thirsty diners were pretty much out of luck, though, since the fine minds of the BC Liquor Control Board had deemed it necessary to sequester the alcohol into an undersized tent entirely separate from the food it was meant to accompany. This is the same sharp thinking that prevents the apparently uncontrollable drinkers of British Columbia from enjoying a glass of wine with their meal on the ferries, a task that Europeans have been managing for decades without mass drunkenness. And just last month I witnessed numerous brave Americans taking beer or wine with their otherwise unspeakable meals on one of the Washington State Ferries, and we all drove off that ship without any trouble.
Aside from that, it was a relaxed and convivial affair. Taste with thine eyes. The varnish clam was a surprise – I've seen the shells on the beach but hadn't been served one before. They're an invasive species, one of the newer ones (though the other popular variety, Manila Clams, are also invasive) and quite tasty, though I still fondly remember the butter clams of my youth.
The veggie platter included an asparagus and morel frittata, which was delicious; so were the salmon tacos which tasted that much better after a lengthy queue while the fish was gentled on the bbq. And the LifeCycles plum gelato with its whisper of balsamic vinegar was excellent: it was made from urban fruit from the Fruit Tree Project.
Farmers were there too: for the chefs revere the growers of their food. Farmer Mike Nyberg manned the Haliburton Farm stand; Heather Stretch and Rachel Fisher were on hand next door at Saanich Organics, where their very handsome and helpful book All the Dirt was on sale alongside the beautiful produce. And Farmer Derek Powell from Haliburton was spotted yukking it up with some City Harvesters.
Best till last. There were some gorgeous sweets, including a a chocolate roll, a hazelnut biscuit, and some creamy crispy raspberry macarons from the wunderkind of VIU's Culinary Arts program.