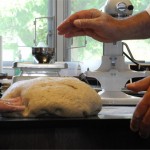 How fast can three days go? Pretty darn fast when you're soaking up as much information as we did. The last day of the conference – Saturday – had an escalating number of "next year"s punctuating the proceedings as the weekend wore on, and even a sprinkling of rain as the formal events ended was not enough to damp the enthusiasm of the Western kneaders.
Our morning's plenary was a capsule review of Jeffrey Hamelman's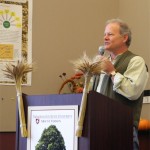 career – which started with a baking apprenticeship in the mid-seventies, under the eccentric tutelage of both German and French bakers. He shared some of his guiding principles, gleaned from the likes of David Pye's The Nature and Art of Workmanship, who talked about the workmanship of certainty and the workmanship of risk; the latter being as applicable I'd say to poetry as to artisanal baking, where "we celebrate the fact we cannot make an identical product time after time". He quoted Pablo Neruda's Nobel speech, excerpting the concluding words from this passage held dearest by bakers (and vintners and poets of course):
I have often maintained that the best poet is he who prepares our daily bread: the nearest baker who does not imagine himself to be a god. He does his majestic and unpretentious work of kneading the dough, consigning it to the oven, baking it in golden colours and handing us our daily bread as a duty of fellowship. And, if the poet succeeds in achieving this simple consciousness, this too will be transformed into an element in an immense activity, in a simple or complicated structure which constitutes the building of a community, the changing of the conditions which surround mankind, the handing over of mankind's products: bread, truth, wine, dreams.
After that, it was a day of impossible choices. I decided to learn about baking with barley, since that was an idea that had never crossed my mind. Two impeccably qualified bakers showed us some tricks and discussed the challenges of working with a flour that is flavourful and high in beta glucan, but pretty much completely lacking in tensile strength, so it needs to be paired with a high gluten flour. Leslie Mackie, of Macrina Bakery, had used barley flour in her Monkey Bread and gave us a firsthand view of how a recipe is developed. Here she checks the crumb of two sample batches of  a barley Pugliese loaf, which is made with 20-30% barley flour.
Andrew Ross, who teaches Crop & Food Science at Oregon State University but has a background as a baker, showed us some 50% barley bread, a 10% barley levain and then proceeded to make barley pita breads and lye-dipped barley pretzels.
I scooted into a panel I'd wanted to hear – Growing the grain is just the start: Connecting farmers, millers and bakers – and caught the end of an animated discussion about commodity pricing vs buying/selling locally and setting a price that allows farmers, millers and bakers to pay their staff living wages and offer them benefits, including healthcare. One farmer, whose farm's motto is "Grown while you watch by people you know"talked about differentiating small, quality-driven operations from the cheaper, profit-driven ones. There was discussion around flavour of local products; one farmer remarked this is less magical than it seems, and more to do with the six week age difference between fresh dug carrot and one bought in grocery store. "When your name is on the package, accountability and care goes up" remarked another. Near the end, the elephant in the room was named. Stephen Jones was asked about genetically modified wheat, and he replied that his research centre has a moratorium on GM research; Monsanto was doing a lot of work on Roundup-ready wheat but stopped seven years ago when Japan and other countries said they would not import it (he did question whether the research actually stopped). But as far as he knows it's ready to go and Monsanto will be reshaping the sales pitch around higher nutritional value. All it will take is the political will (or weakness, more accurately) to let it through the gates.
Then it was lunch and on to the finale: tours of a local mill, farm and bakery. Fairhaven Organic Flour Mill was our first stop, where owner Kevin Christenson told us about his experiences since taking over the mill in 2007. He went into the question of gluten-free milling and explained some of the difficulties around that, where there's limited equipment and more demand for other flours. They clean their equipment as best they can but it's not a perfect system.
Then on to the Breadfarm, which had been providing us with some delectable treats over the weekend. Owner Scott Mangold showed us his mixer, his ovens and his methods while his bakers toiled away in the background. His shop is open from the counter to the back of the preparation area so that customers can see what's happening while they buy their bread; a nice touch, but Scott added, a rather dusty one.
The last tour of the day was to Hedlin Farms, where fourth generation farmer Kai Ottesen showed us round this family farm. The scion had left it in shares to his offspring – meaning the farm could not be parcelled off without the consent of all concerned. And so it goes on today, with some innovations. The hothouse tomatoes are a relatively small operation, geared to supply farmers markets and restaurants, from about May each year. The twining of the stems (string supports are moved along as the stems grow) is a fairly standard arrangement in greenhouses, as are the biological controls which are bought in. It's hard to get organic certification for greenhouses – you have to have an organic fertilizer that will work with irrigation systems that are notoriously finicky, so Hedlin has spray-free greenhouse tomatoes as well as certified organic tomatoes grown in earth in a polytunnel.
They also have a heck of a farm dog. She makes up for her size in sheer persistence: can dribble and fetch her ball till the cows come home.