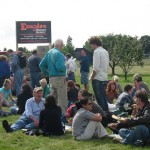 Sun broke out on day 2, causing some basking on the grass at lunchtime.
We began the day with a PowerPoint tour of local and small scale wheat producers from non-wheat areas; wheat breeder and conference organizer Stephen Jones showed maps revealing the transition to commodity scale production, which has redrawn the country's pattern of wheat production. While almost every state in the US used to produce wheat, now the focus is on large scale production – nothing less than 1000 acres shows on the maps. But there's a welcome resurgence across the board with small producers from Whidbey Island – where Ebey's Prairie farmers once held the world record for productivity (119 bushels/acre in 1919 – a figure that dwarfs today's industrial scale yields of around 45 bushels/acre) to Vermont – where farmer Jack Lazor has dealt with the loss of infrastructure by building his own grain elevator. Here at the Mount Vernon Research & Extension Centre (where the conference is being held) Jones is working on developing varieties that are resistant to local problems – notably rust – and has been working closely with local producers and bakers.
Starting to get hard to choose between sessions. I stopped for a few minutes at various points to watch Seattle baker George DePasquale on Artisan Sourdough for Home Bakers where he had some smooth moves for shaping boules, batards and baguettes,
and offered advice on setting each on the couche, as well as transferring from the couche to the peel. He also took his scissors to
a baguette to demonstrate the making of an épi de blé – remarking it was a tricky one to get in and out of the oven in one piece.
On to a panel discussion: A Question of Scale, where farmers and bakers talked through some issues to do wtih ethics and economics of producing local and organic.
Lunch beckoned aromatically from the tent where the Patty Pan Grill folk were preparing the innards of our meal, which, alongside an excellent salad and three kinds of tamales, offered a spectacular discovery for me: it is possible to enjoy a quesadilla, if it is prepared from beets and other nicely turned veg together with some good cheese.
Some Vancouver Island talent: Fol Epi baker/owner Cliff Leir with "beer farmer" Mike Doehnel. Mike walked us through the barley malting process, after an introduction to barley breeding by Patrick Hayes, who set us loose on samples of hull-less and hulled barley, perled barley and even an incredibly good toasted barley snack (with local hazelnuts and cranberries) that's soon to be marketed.
There was also discussion of something called Bappir, an ancient trail food made with barley, honey and dates which served a dual purpose: it could be soaked in water where it would be colonized by wild yeasts and serve as the foundation to early beers. We were also encouraged to try a barley head thresher – a basic manual model or an automated version – and a barley perler.
Some beer tasting ensued while Mike managed a demonstration barley mash in the background, eventually offering sips of the wort (if I followed the process correctly) which is the sweet dregs of the washed mash. It can be cooked down into malt extract for baking, or carried through the process and combined with hops to make beer. Of which we'd sampled five versions – four of them local, and some quite excellent. Thus fortified we wandered off to wait for… a beer and cheese tasting.
Behind us there was a small commotion of slapping and patting, which was the wood fired oven workshop group putting the finishing touches on their labour of love, which was to be silently auctioned off later in the evening, with proceeds to go towards the next Kneading Conference West – a worthy cause in my view. All you needed was the means to take it home with you…
Elsewhere I happened upon Michael Eggebrecht and Stephen Jones wrangling a giant loaf from the Professional Baking workshop – came off a large rack of loaves that were on the way to the food tents where we covered them in more local cheese – a dill/garlic herbed number and an aged gouda style – before settling in to a dinner of barbequed chicken, corn and beans. And that was our Friday.
I retire with trepidation, for tomorrow's schedule is too tempting and I cannot decide between four simultaneous sessions…