At last, over-fed and impoverished, it was time to leave drizzly Parma for damp Milan to prepare for our separate departures. In Milan we spent a few hours checking out the neighbourhood, buying hats and gloves from a tiny shop we found in a side street. Found a pizzeria (Little Italy) that had been recommended by our Airbnb host, but the smell of deodorizing chemicals and the sneery attitude of the waiters quickly sent us packing.
Luckily we had stopped for a delicious Belgian beer and some rather nice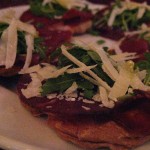 bresaola that tided us over until we found our zen at Ristorante Salernitano. We agonized over the staggeringly long and tempting menu while around us tables filled with locals. Risotto nero with lobster for my companion and some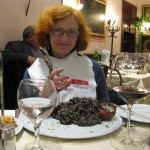 fettucine alla lepre (hare) for me, followed by tagliata con rucola and a lovely green apple sorbet topped with calvados.
Too early the next morning we set off on our separate journeys. Mine took me through Milanese rush hour from Milano Centrale to Milano Porta Garibaldi by metro. No easy feat with baggage. Then back on TGV train service to Paris – this time first class, which was no different from standard class, except decidedly grubbier. Did not appear to have been vacuumed in near past. The seven-ish hour trip gave me plenty of time to reflect on the sad decline in passenger train services. Where once existed decent restaurant cars with proper meals served on tablecloths by waiters, now we get sad little kiosks selling disappointing variations on the baguette, inferior push-button coffees and a surplus of sweet drinks. An insult to the food traditions at either end of the Italy-France run.
Things no better in Paris. The train arrived at Gare de Lyon and from there I had to battle Parisian commuter traffic – by now having achieved the afternoon rush hour – finding my way with my heavy bags via the cryptically labelled RER services to the manic labyrinth that is Paris Nord and up mysterious escalators to Gare du Nord, a culinary wasteland if ever there was. And into the desolate and overcrowded Eurostar waiting area.
The trip made me abundantly grateful for the clean and well serviced station at St Pancras whence I had departed only days earlier.. I can't honestly say which is worse: the European train services with their exhausting station transfers, multitude of stairs and dearth of decent food concessions, or the horrors of budget air travel – which are at least equipped for passengers with baggage – with all those nightmarishly early morning departures, grumpy and unhelpful airline staff and dehumanizing security checks. Staying put in London for a while.