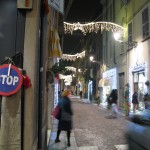 We spent five days in Parma, retracing some of my old steps and doing what we could to boost the economy: consuming ample Parmigiani fare and combing markets and shops for Christmas presents and bits of finery.  It was good to have a chance to refresh my memories – the kindness and courtesy of the people (an Italian Victoria?), the pastel buildings with their fine metal detailing, the microscopic lifts in the old marble-staired buildings – if you're lucky enough to find one, the gleam of cobblestones after rain, the sulfuric stench of the water, the roar and bellow of Italian teenagers at lunchtime, and of course the wonder of the food. It's no place for vegetarians, and would be challenging for the gluten or dairy intolerant, but omnivore heaven. Lots of dogs around too, in and out of shops and all over the market.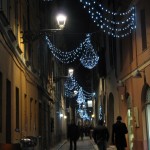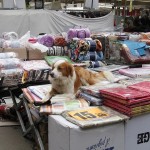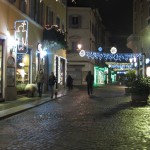 This was my second stay at the comfortable and perfectly situated b&b La Pilotta which gave us an excellent view and handy access to the Christmas market, just setting up a day or so after our arrival. We also stumbled upon a market in Oltretorrente, the other side of the river, and had a good perusal, warmed by a little cioccolate calda.
Commerce not being our only mission here, we stopped in at Parma's duomo, where our entrance coincided with some music from the organist, practicing for an evening concert which featured five choirs, a small orchestra and some popular soloists. The centrepiece was l'oratorio die Kindheit Jesu by Johann Christoph Friedrich Bach – which left the impressive 50 member choir standing around for far too long. And I'm afraid only affirmed in our minds the superior skills of JS Bach. Still. It was Christmas and it was music and the heavily accented rendition of Go Tell It On the Mountain will linger on as a cherished memory. The duomo's nativity scene was charmingly random and featured, if I am not mistaken, a watermelon seller among the gathered figures.
Moving out the doors of the duomo and across the piazza, the Battistero awed me now as it did on my last visit some years ago.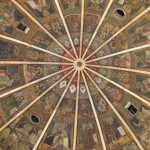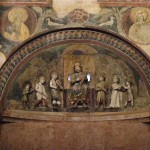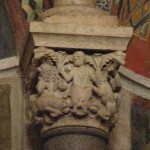 Finally, on our final drizzly morning in Parma, I managed a warm reunion with one of my former classmates, Amy, who with her husband Corrado have just hit the Michelin guide for their fusion osteria in Suzzera, Mange Bere Uomo Donna. One to check out next time!