On Wednesday I went along to Bolen Books to hear Lynn Coady reading with Douglas Gibson. Gibson was in good form, spinning tales I hadn't heard on my last listen, from WO Mitchell's farewell joke, to respectful admiration of Alice Munro, to the dangers of crossing Montreal streets with Pierre Elliot Trudeau. Coady read a mesmerizing passsage from The Antagonist, which I must get my hands on one of these days when I can force myself to sit down and read something.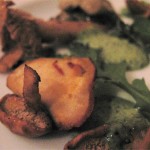 Last night I joined about 50 others to enjoy wild mushrooms, many of them unearthed earlier that day by participants in a foray led by our mycophilic host Sinclair Phillip. The chefs of Sooke Harbour House were given the challenge of coming up with a menu to suit the finds (on top of regular restaurant duties and, I think they said, a reception as well). They more than managed to offer us four fine courses, starting with a Matsutake broth in which were floating the selfsame pine mushrooms, surrounded by assorted wild morsels, a bit of nettle emulsion and a few nasturtium petals and shuagiku leaves.
Second course was a trio of tasties: porcini quinotto topped with boletes; pear-poached white chanterelle; and a bear's head and spot prawn herbal salad with pickled hedgehogs.
Third course, the "wild plate", included morels (from Eric Whitehead) stuffed with polenta; a venison croquette of Sidney Island fallow deer (these are culled annually, a fellow diner told me) with shallots and hunter's stew (made from assorted foraged mushrooms) ; a pretty triangle of beet-mushroom terrine; and boletus grilled in leek oil with Red Fife "soil". And the finale was Kabocha squash pie accompanied by an amazing candy cap mushroom ice cream, candied chanterelles and a darling meringue mushroom. The jelly that topped the pie was made from a delicious mushroom reduction (from the icecream making).
Back in my own kitchen, it's preserving time and I'm wearingmy fingers to the bone making quince everything.
My lunch today was a modest harvest feast: a tomato-mustard tart, some fresh sauerkraut which made itself while I was away in Banff, and a crunchy baby cucumber from the garden; then a slice of yesterday's Sticky Quince & Ginger Cake – part of my ongoing quest for new ways to use quince.