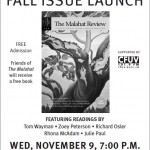 Next Wednesday, November 9 The Malahat Review is holding its fall launch party at The Well in Victoria. The launch party is one of the things I really love about this magazine: never more than in these days of precarious arts funding, every literary publication deserves celebration. On this occasion I am delighted to be reading with Tom Wayman • Zoey Peterson • Richard Osler • Julie Paul.
I have crossed paths with Tom Wayman numerous times over the years, and did so again yesterday when we shared the airwaves on CFUV radio, being interviewed by Colin Dower and Brian Mason. Tom was asked about his passion for work poems: he's edited a couple of anthologies of these, and my poem "The Grievance" (from Creating the Country) was included in the "Less Like Ants" section of  Paperwork, back in 1991. He also included "Infinite Beasts" (from Hour of the Pearl) in The Dominion of Love, an anthology of Canadian love poems published in 2001.
The publication of "Dowsing Stick" in Issue 176 marks my fourth appearance in Malahat Review since 1984, and I'm happy to be back in its pages. Hope to see you at the launch! 7:00 p.m. Wednesday, November 9th at The Well, 821 Fort Street, (between Quadra and Blanshard), Victoria BC. FREE Admission.