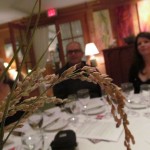 I was lucky to be able to attend a Slow Food dinner last night, when Chef Naotatsu Ito collaborated in the Sooke Harbour House kitchen with Chef Robin Jackson. They offered us a menu that celebrated and honoured vegetables and featured winter bounty from Umi Nami farm served with local fish, seaweed and foraged mushrooms. Each of the eight courses was paired with teas from Silk Road Tea, chosen by Japanese Tea Master Daniela Cubelic; others took advantage of the chance to try Osaka Artisan Sake from Granville Island in Vancouver –made with local rice!
First course was a winter vegetable terrine (kabu, chard, broccoli, daikon) held together with agar rather than gelatin, and served on a green sauce potato puree with Nootka rose vinegar. Next came some pretty little morsels of crab meat seated on a bit of broth-infused daikon wrapped in coppa.
And then came octopus – some lightly cooked and sliced, the rest simmered and mixed with kabocha and daikon and then garnished with shredded vegetables and a dribble of red wine sauce. Next we had marinated freshly-caught albacore tuna wrapped in daikon and served with pretty and crunchy watermelon radishes. The next course required some audience participation: we were brought bowls containing lingcod rolled around green onion, seated on a bed of fir and seaweed beneath which was a hot rock. The servers poured hot tea in and covered it, and after five minutes or so we uncovered and enjoyed.
After which arrived some sauteed lingcod, served on a delicious kabocha–miso puree with a green "barlotto" and green onions and nodding onion. More kabocha appeared in the next course, combined with fresh local mushrooms and some bacon. Slivers of kabocha peel had been fried and arranged around all. The finale was a trio of desserts: green tea & turnip ice cream terrine, black turtle-bean cake and an exceptionally good matcha tea cookie (what a custard cream cookie might dream of being in its next life), with tart and sweet Japanese plum cherry jelly and subtle little drops of minty syrup.