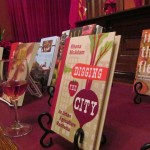 It's been a couple of weeks of book promotion and food events… I keep waiting for things to slow down but they keep speeding up instead, so I will try to catch up a little.
Last week began well, with a unanimous vote by Saanich District Council in favour of a no-GMO motion that had been in the works for a couple of years:
"That the Healthy Saanich Advisory Committee recommends that Saanich Council does not support the use of genetically modified seed crops within the District of Saanich, and that Council write to the federal Minister of Agriculture, the Canadian Food Inspection Agency, and local MPs in support of the mandatory labeling of genetically modified foods."
For those who don't hail from these parts, Saanich is one of the largest of the 13 municipalities that make up the Capital Regional District (what outsiders would call "Victoria") and one that has an interesting mixture of urban and rural properties. It joins other BC communities, including Powell River, New Denver, Kaslo, Rossland, Nelson and Richmond in banning GMOs.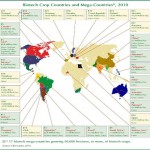 I was among those who spoke in favour of this motion at a public meeting in October, on the grounds that GMOs have not been proven safe for human consumption. While some might argue the horse has long since exited the barn, I am with those who believe we can only carry on letting people know they have a choice and a voice and trying to educate the wider public on under-discussed aspects of what should still be a lively GMO debate. I pointed out that since our parliament has failed to allow our population to safeguard itself against eating GMO products by introducing mandatory GMO labeling, all Canadians have been fed GMO foods without their knowledge or consent since 1996. So I was particularly pleased to see that the municipality would be writing to the federal representatives about labeling. And would urge all sensible people to do likewise while they have ink in their pens or pixels on their screens. Sanity may yet prevail in this country when poor brainwashed Canadians manage to grasp the same realities as the citizens of more advanced nations including South Africa, Kenya and Peru.
Tuesday there was a round-table meeting of Victoria's CR-FAIR which brought a couple of dozen food and agriculture activists together to discuss local initiatives. The range of activities was heartening and included work or plans for community gardens, agricultural land protection, community seed banks, access to food by low income residents, community kitchens and kitchen gardens, gardening workshops, food redistribution tools and access to farmland.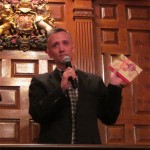 Friday I was at a promotional do for my beautiful book, held at the even more beautiful Maritime Museum. Appropriately for a daughter of the bench, I took my turn speaking from the place where Judge Begbie had thumped the gavel in days of yore (and he was *not* a hanging judge, according to Marlyn Horsdal, who also presented as author of a novel in which he is a character). Thirteen books from the Heritage Group of publishers were celebrated by 14 authors, each of whom had five minutes to say something about their books. One book, in fact the only one I bought (in a spirit of strictest frugality) – Saanich Ethnobotany – was co-authored by the excellent Nancy Turner and Richard Hebda whose collaborative tale-spinning made a fitting finale for an evening well spiced with food, drink and tantalizing introductions to a good mix of fiction, nonfiction and anthologies.
And finally, tonight I launched Digging the City at the Cornerstone Cafe in fabulous Fernwood, with the kind assistance of Don Genova as my celebrity host. About which event I will say not much except a good time and tasty treats were had by all.. and my generous readers took away some purdy books and free seeds!