Those who have been tiring of my obsessive ravings about quince recipes will be pleased to know I have not touched a paring knife for about a week now. I had been blessed this year with a large quantity of quince– which I did my best to whittle my way through before abandoning a last box to others and disappearing off to England.
Before I left I tested just about every recipe I had time to try, both sweet and savoury. Here's a recap of some of the ideas I checked out, including those already mentioned in an earlier post.
Quince jelly is, of course, just about the best thing to do with quince. Beautiful, aromatic and delicious.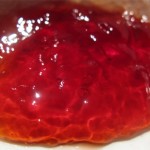 But I didn't make any this year, at least none that set properly. Instead I used some of the unset jelly (or quince syrup, we're calling it) as the base for oven-poached quince, which was gorgeous. Three hours in a slow oven turned the fruit and its syrup (flavoured with orange and vanilla, or lemon) ruby red. It also helped the fruit remain firm enough to can for future use, in a quince sticky cake, for example.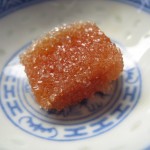 I know that many people faced with a quantity of this fruit immediately think of quince paste (membrillo). I have made my share of this tangy sweet which takes a cheese plate to new heights. But not this year. I have learned that there is only so much quince paste one really needs in one's life, and it can be tricky to hand off to others as it can't just be stuck in a gift box, but needs to be refrigerated and dusted with sugar before serving. When it's been stored for a while, it has a tendency to drool a glorious puddle into its dish, as messy as it is delicious. And sadly, it does not keep forever, though it can last several months in the fridge.
This year, I've been browsing some savoury dishes. Lamb tagine with quince is a popular one, as quince has a subtle flavour that pairs well with lamb and is popular in Middle Eastern cooking. Quince soup comes in many varieties: with sweet apple cider and dates; with kabocha squash and Thai spices; with celeriac; and with plum wine and chocolate crème. Pumpkin chestnut risotto with quince sounded wonderful – but also like rather a lot of ingredients competing for attention.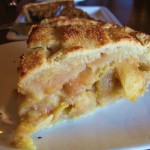 Quince dessert recipes are quite numerous (particularly in French) but quince clafoutis seemed to be one of the most popular. A quince and apple pie that I was lucky enough to sample at La Piola was wonderful. Cakes include an upside-down, one with almond, a pudding cake and a sticky quince & ginger cake.