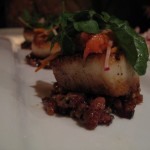 It's been quite a week. Tuesday I enjoyed a meal at Camille's which was very nice food, very nicely served. Starters included some gorgeous scallops, sporting leafy hats and nestled on a bed of bacon. A nice bit of organic beef came with a curiously delicious egg that had been poached and then deep-fried and made to feel crisply oriental. And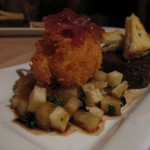 the apple dessert trio – kaffir lime frozen ricotta the highlight – outclassed my caramel pot de crème with apple foam, but we shared. And the wines were wonderful, particularly the apricot-raisiny delights of the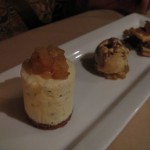 Pentâge Late Harvest dessert wine, dessert wines being one of my favourite things.
The Malahat Review is another of my favourite things, and its Fall launch reading at The Well was jam-packed with literature lovers. I must say I've seldom enjoyed a reading more. Attentive and large audience, talented and entertaining fellow readers, nice ambiance. And some rather good salt and vinegar kale chips, which in their clear plastic baggie rather gave me the appearance of a purveyor of puff than an advocate of antioxidants.
Anyway. I was up first, followed by Julie Paul reading a tantalizing beginning to a short story; then Richard Osler in good poetic form, Tom Wayman in passionate voice dedicating his first poem to the Occupy people, and Zoey Peterson sending us home to contemplate his delightful prize-winning story.
Thursday night at Fernwood Community Centre I'd guess there were nigh on a hundred of us gathered to hear Curtis Stone, the cycling SPIN farmer of Kelowna. He gave a terrific talk about his business and a great preview of the three-day workshop he'll be leading in April.
When he started Green City Acres, he had no farming background at all – just nine years of tree planting and a great love of cycling, and so he took himself on a tour of urban farms in Canada and the US to see how urban agriculture was being done. He learned his trade from the manual sold by Wally Satzewich and Gail Vandersteen's SPIN farming enterprise, and through a couple of years' trial and error. And has emerged as a generous and enthusiastic teacher-farmer.
In his first year of operation he made about $22,000 and worked 16 hour days. "Like you would for any startup small business," he says. This past year so far he's pulled in $60,000 from the three quarters of an acre he farms – spread across half a dozen backyards. With a partner helping ease the load this year he's been working 50 hour weeks – and adds "most of our time is cycling." On their bikes they pull custom-designed trailers piled with tools, compost, produce, even bales of hay and a small rototiller. His startup capital costs were around $7,000 and he believes it's possible to make $100,000 an acre.
He tills lawns in three stages to kill the grass and give himself time to test the soil for clay-sand ratios and pH level, so that he knows what amendments to use to boost its fertility. He gets food waste from restaurants and composts prolifically for his production which is organic but not certified. His first plot was a needle-strewn wasteland with poor, contaminated soil which he had to fill and remediate. He says the drug users who used to shoot up on the property still come by there, but now they come to look at the garden, which is flourishing.
He thinks that the scattered fields of SPIN farming offer a lot of advantages, as plantings are spread between different microclimates, soil conditions, light conditions, biodiversity (weeds and pests) and land configurations, so if one row or crop is lost, chances are that the other plots – all planted in standard 2″ by 25″ beds – will be ok. And growing intensively on such a small scale offers other advantages: SPIN farmers can grow a wide variety of produce in small amounts, much  closer to their market than rural farmers; they have a much smaller capital outlay – hand tools and small machinery; and because they deal directly with their market (CSA, restaurants or farmers markets) their profits stay in their own pockets.
Stone is a big proponent of CSA programs, which he dubs "modern crop insurance" as it spreads the risk of growing between farmer and consumer. And the customers are well served too, by eating food that is extremely fresh, very locally grown, by someone who lives and works in their own community.
On Friday, I escorted a veteran to the cenotaph in Duncan and was rewarded with lun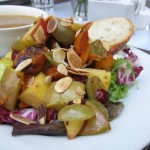 ch at Bistro 160, which was chanterelle soup and a very fine roasted yam and apple salad. The fuel was needed to tackle the very large quantity of leaves that had blown up my driveway on that stormy day: gifts from the gods of mulch, to be enjoyed by my garden beds (and a whole new generation of slugs, I'm sure) over the winter.