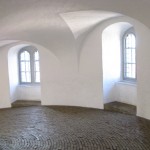 How quickly five Danish days can whistle away. I landed on Monday and spent a rainy Tuesday in the Nationalmuseet (National Museum) looking at treasures of prehistoric Denmark, having first been fortified by a deliciouslunch of smoked sausages in the museum cafe. The most moving exhibits to me were the bog people, and the oak coffins made from hollowed-out whole tree trunks, all of them behind immaculately clean glass, dimly lit and fully labelled.
On Wednesday I tackled two places: the wonderful Rundetårn (Round Tower) which gives one a brisk, stepless walk up to a viewing platform 39 metres above street level, where we were battered by wind but treated to bright views of Copenhagen. The bellroom has been partially restored and the library turned into a shop, cafe and art centre where visitors can try their hand at making art in response to the visit, as various school classes had done on my visit.
From there I proceeded through the winding streets towards the Ny Carlsberg Glyptotek. The wind was starting to bring some rain with it, and when I paused to check my bearings I noticed a cafe below street level, so I stepped inside just before the rain descended in force, by which time I was tucking into a most delicious lunch of smoked eel and scrambled egg on rye bread in the warm and friendly Tivolihallen. It was so good I went on eating and had some very tasty lamb meatballs with creamed spinach.
I had a hasty visit to the Glyptotek as time was ticking on, but did enjoy my fleeting tour of the ancient art – Etruscan, Greek, Roman and Egyptian all well represented. I was sorry to have missed the Gaugins, Rodins and Munches that were lurking upstairs, but I did love the courtyard. I trudged back along Kampmannsgade into Frederiksberg where I was staying, and later dined at Ambrosias Have (Ambrosia's kitchen), which offered a fine vegetarian buffet from its cafe adjoining a yoga centre.
On Thursday the storm was lashing down as we stumbled about in search of the Freiheitsmuseum (Museum of the Danish Resistance) which turned out to be closer than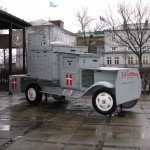 we'd thought. An excellent museum this, with film and audio and nicely arranged displays that gave a feel for the everyday life into which the German occupation came, as well as clothing and objects relating to the Danish resistance movement and the German prison camps where Danes were imprisoned and killed – in lesser numbers than some other groups and nationalities.
Next stop was the extraordinary David Collection where the top two floors of Islamic art and history are absolutely stunning and beautifully presented. It's a private museum, but so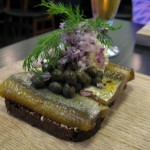 well funded that admission is free (as it was for the National and Resistance museums). All that gawping makes one work up quite an appetite for sild (herring) which we satisfied at Aamans smart little cafe. We had two kinds of herring: one was marinated and the other curried, which curiously seems to be one of the characteristic flavourings for this fish. I was told that Christmas lunches can feature as many as a dozen different styles of herring: marinated, curried, pickled, fried, smoked… And before long we were on the road to Rungsted where Karen Blixen Museet waited in the rain. We whirled around the rooms in which she wrote and entertained, and admired the drawings and paintings she'd left with her estate where the Danish Academy – which she co-founded – still meets in accordance with her wishes. And that was about all I had time to do on this trip, other than to hope that I will be able to return for another look (preferably not during a winter gale!)
I flew back to London on Friday afternoon and rose bright and early (or more accurately in the dark at 5am) Saturday morning to catch a train to Cambridge, where I arrived as the sun was rising. I made my way to the Fitzwilliam Museum where the hugely popular Vermeer's Women: Secrets & Silence exhibition was entering its final week. Happily I had managed to squeak onto a poetry workshop led by Tamar Yoseloff which she had cleverly arranged with the museum's educational department so that we could have a precious half hour alone with the paintings. Which were wonderful (only four were Vermeers; the rest were by his contemporaries) and the more so since we'd had some quiet time with them before the hordes crowded and elbowed their way through (there were 25 minute queues by the time we left).  We discussed some poems inspired by the paintings (including this Derek Mahon number) and then marched across town for some another private viewing at Kettle's Yard, a uniquely domestic setting for an art museum, where we spent some time  writing and discussing before hopping back on the train to London.