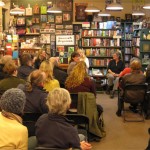 I had the chance a couple of weeks ago to mosey down to Cadboro Bay Books to catch Farmers at the Mike – an evening with organic farmer-authors Heather Stretch, Robin Tunnicliffe, Rachel Fisher (who make up Saanich Organics) with special guests Mary Alice Johnson and Lana Popham. They were promoting All the Dirt: Reflections on Organic Farming and talking about the life and times of organic farming. It was a packed house and a congenial time.
I then had a chance to check out The Writers Union of Canada's professional development workshop, How to Be Your Own Publicist, which was outstandingly good. Heavy on use of social media, it also gave some good practical ideas for promoting books and relationship-bulding with readers. I'm not sure how far I want to go with social media but I'm pretty much in there for now: with this blog, a facebook page and twitter account I think I have as much as I can cope with. I took a look at Pinterest which was touted as the next new thing but swiftly went off it when I learned you could seemingly only access it through Facebook or Twitter and that it wanted to take some control of these media: most off-putting was its statement that if I joined it through Twitter I'd be giving it permission to see who I follow, and have me follow new people; update my profile; and post tweets for me. Which rather defeats the point of having one's own profile and posting one's own tweets, I would have thought.
Then it was on to Nanaimo for permaculture classes. I'm enrolled in a permaculture design certificate program that will keep me busy  until mid-May. I've heard bits and pieces about it – knew some of the permaculture principles, had seen bits and pieces about permaculture's founders, Bill Mollison and David Holmgren – but wanted to get a more coherent picture. This course was perfectly timed I thought: every other weekend, so time to think, absorb, apply; and running through the spring when there is the possibility to put some of the ideas into action in one's own garden. Though the Bullock Brothers are held up as the gold standard for permaculture training, their courses are residential, in a two week block in the middle of summer when it's hardest to get away.. and I'm a bit past wanting to camp for the duration. So I'm happy with this, and Javan Bernakevitch is proving an excellent facilitator. We did mostly introductory work, getting to know one another (16 in the class now) and some exercises in familiarizing ourselves with zones, sectors and elements. This week we're getting into the compost, so that should be fun.
The course is being held in the Pacific Gardens Cohousing Community which is a housing concept I'd been interested in for a while, so it's good to have a chance to really get to know it and see how things work there. It's only been going for a couple of years and is in a pretty wonderful location. I like the common spaces – workshop, crafts room, music room – and most importantly, the compost, orchard and raised beds for food production.
I returned in time to host a food swap which yielded some fine bounty: freshly ground garam masala spice mix; freshly ground flour; fresh farm eggs; and some canned peaches and a chocolate-beet-hazelnut cake.
Wade Davis spoke to a packed house in Victoria last week – he filled the IMAX theatre in his home town, on a tour to promote his latest book and cause, The Sacred Headwaters. It's about the northwestern part of BC where the Skeena, Nass and Stikine Rivers originate. All are important salmon rivers, and the tribal homes of the Tahltan First Nation who hunt and trap in the area. There is also abundant wildlife – grizzly bears, stone sheep and Osbourn caribou – and unfortunately for all of the above, abundant minerals including copper and coal.
Imperial Minerals has already got the go-ahead from the BC government to run the Red Chris mine, (open-pit mining of copper and gold) in the area for 30 years; now Royal Dutch Shell wants to extract coal bed methane gas there. Both operations are of course hugely contaminating. The Red Chris mine will be turning pristine lakes into toxic tailing ponds, and methane gas extraction involves drilling and fracking, which means prolific water use and contamination.
The Skeena Watershed Conservation Coalition offers some ways to get involved in asking Shell to back off:  petition, letters and actively joining the campaign.