More catch-up posting. London is receding into the recent past at alarming speed, as the present gallops along. Here are a few culinary memories of that still-recent visit. It was not as food -centred as some of my trips, as I was not there over long and more concerned with catching up than dining out, but there is much good food in London, and I had some very nice meals.
The Jamie Oliver cookery school/cafe in Notting Hill, Recipease,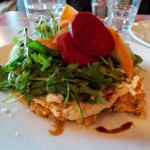 had lured us in for carrot pancakes, on Pancake Day – and then, near the end of my stay, to a cookery class. The school and cafe are perched a floor above the glass-walled Recipease kitchen and shop. Lessons are taught around an open square within which the instructors move from student station to student station, and diners can look on while they dine. We chose North Indian Thali, which turned out to entail a demonstration (dhal) and some hands-on (chickpea masala, crispy spiced okra, puri bread from scratch, and stir-fried vegetable salad) cooking. After which we ate our own cooking, accompanied by rice, dhal and a mango puree.
I'd also made the required pilgrimage to Ottolenghi's Islington shrine, where the meringues beckoned and the salads gleamed. Everything always so beautiful there.
And elsewhere: home cooking isn't too shabby when it comes in the form of anchovy-draped tuna-stuffed peppers. Another day I had a nostalgically quirky dining experience at the Maja cafe, in the ground floor of the Polish Social & Cultural Centre, where the pierogies were ample and the golabki available in both meat and vegetarian forms; brought back memories of Edmonton's Ukranian fare. On another day we went to the Black Dog in Vauxhall, accompanied – of course – by a black dog, who napped beneath the table while we tucked in – a perfectly beautiful beetroot salad (with three colours of beets!) for me. And (hear this, food inspectors everywhere!) even with a canine companion so close by, I can confidently state that nobody caught rabies, supped on dog hair or perished from being in the same room as an animal during that meal.