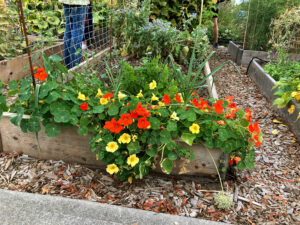 Having planned my backyard reading for the same day as the Gorge Tillicum Urban Farmers summer garden tour (oops) I was pleased to be able to take in the follow on tour, and manage to get to one of the gardens at least.
We have a number of talented gardeners in our neighbourhood, and in this one, Emily had chosen to plant her front yard in fruit, vegetables, herbs and pollinator plants, with a rabbit hutch and chicken coop in back.
---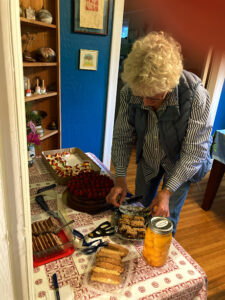 After the tour we repaired to Gabe & Belle's for a poke round their garden and a large and splendid potluck supper, which featured many locally grown vegetables, and finished off with a large gluten-free chocolate cake to celebrate Lorrie's birthday… and some rather luscious fruit pavlovas, cakes and (ahem) some bourbon-spiced peaches that I'd canned earlier in the summer.