It's not every day you get to host a reading in your back yard, but yesterday was that day for me.
Judy LeBlanc and I cooked up this idea some months ago, to give her a proper launch and reading for her new novel, The Broken Heart of Winter.
We invited as many people as I could imagine squeezing into my living room (not knowing what the weather would be like) and when the forecast was for sun (and then HOT sun!) we reconfigured the plan to hold the reading outside. All it took were a few borrowed chairs (thanks be to neighbours), a garden canopy and rented sound system (thanks be to Brian and Judy) and masses of lovely food (thanks be to the baking goddesses, friends and summer produce).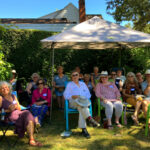 The event came off pretty seamlessly. We ended up with just under 30 people perched in shady chairs or lounging on the lawn beneath the over-laden apple tree. Murphy the dog was delirious with pleasure at having so many bare legs to greet, and nobody reported direct hits from falling apples or Garry oak acorns.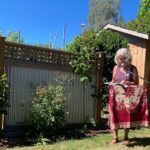 I enjoyed reading a few poems from Larder that had been set or inspired by my garden, and Judy gave a good sampling from the three sections of her novel, covering the recent and more distant history of Acadians as lived and told by a cast of women characters. After which our guests relaxed into party mode for a couple of hours.
By late afternoon, the temperature had reached a rather symmetrical 30c or so and a few of us repaired to the beach down the road, dodging the extensive litter of Canada geese guano (mercifully dried out by then, so less intriguing to Murphy) to take a cooling dip in the Gorge.