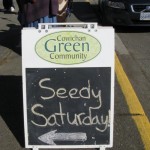 What has come to feel like a rare weekend of glorious (if not warm) sunshine brought out the seedies at Duncan's Seedy Saturday. I'd been to one other at this venue, in 2010, and it's grown hugely in popularity since then.
It takes place at the Mercury Theatre, which is getting a little small to contain the interest. Upstairs was mobbed; downstairs was quieter, and featured my friends from Haliburton Community Organic Farm.
Meanwhile outside there was some action: food vendors,  plus fruit and nut trees and bushes, and a display of edible weeds from the highly knowledgeable wild foods educator Roger Foucher, who will be offering a workshop on wild & cultivated perennials in Victoria on April 1).
I got away with only five packages of seeds, and a shiny new blackcurrant bush. With luck I'll be growing part of my own Christmas cake this year.