I've been focusing on food so much lately in this blog, and in my life and writing in general, it's a pleasant change to be around writers here at Wired, and to have a chance to talk about writing as well as food. Because I meet most of my fellow scribes at mealtimes, as usual I'm mixing my interests. And as usual there is a lot on offer at the Vistas buffet, much of it delicious, greasing the wheels of conversation  around the dinner table.
Something I haven't yet raised  at one of those meals is my passion for audiobooks. I've always loved being read to, and this summer I've taken a lot of audiobooks out of the library to accompany my jam-making, apple-peeling, blackberry-juicing, kale-chipping and general cooking and cleaning. Now I read it's a trend in the wider world as well!
When I decided to drive to Banff, I was really looking forward to the many hours of being read to that would allow. But pleasant as it's been, it's not been perfect. In preparation for seeing the new film, whenever I'm able, I'm deep into the unabridged (11-cd)  Tinker Tailor Soldier Spy, read by Frederick Davidson, whose voice seems to fall more than it rises as he nimbly switches characters and mood, so it's been a challenge to hear, let alone follow, the convolutions of plot in this intricate novel. I wonder if this is a characteristic of British readers in general or if it's particular to this one's style.
I didn't have so much trouble hearing Jared Diamond's Guns, Germs and Steel but interrupted it halfway through when I found my attention wandering, and thought that a thriller would be better suited to driving, hence the le Carré. Haven't yet started on Alain de Botton's Consolations of Philosophy but am even more keen to do so after watching his TED Talk (A kinder, gentler philosophy of success).
CBC has produced some fine listening for travellers,whether of the mind or road: I'll probably start my return journey with a repeat listen to Anna Maria Tremonti's excellent 2008 series Diet for a Hungry Planet (with volumes 1 and 2 of Afghanada for backup).
As my Thanksgiving treat today, I went into
Canmore to meet Susan and Jennifer for lunch and lots of tea at Communitea. Here's what the moderately wholesome black bean-avocado quesadilla, plus cup of broccoli soup, looked like on the one hand, and a couple of those OMG-we're-in-the-mountains kinds of views on the other.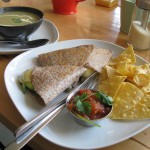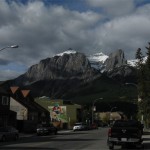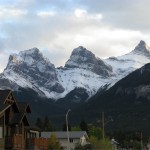 In poetry news, for those who haven't heard, the deadline approaches for the £2,500 Fifth Annual Troubadour International Poetry Prize, judged by Susan Wicks & David Harsent (with both judges reading all poems). Prizes: 1st £2,500, 2nd £500, 3rd £250 & 20 prizes of £20 each plus a Spring 2012 Coffee-House-Poetry season-ticket and a prizewinners' Coffee-House Poetry reading with Susan Wicks & David Harsent on Mon 28th Nov 2011 for all prize-winning poets. Deadline for entries: Mon 17th Oct 2011. More information and PayPal link at Coffee-House Poetry Prizes page.