One of the features of ASLE conferences most beloved by attendees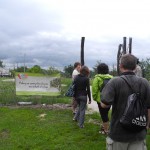 is the choice of activities slotted in to highlight the environmental features of the host region. My Friday afternoon pick was a tour of the Bloomington Community Orchard. The 44-variety organic orchard was planted last October, so it will be a couple of years before it's bearing fruit (although there are berry bushes which will keep volunteers interested until then, perhaps).
It's adminis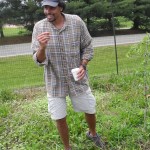 tered by a volunteer board and has received grants already from Toms of Maine and Edys Ice Cream. Our guide, board member Ross Gay, said the grants were helpful as they gave the orchard focus through its beginnings, since the requirements – to carry out educational projects and the like – had to be satisfied within a strict time period.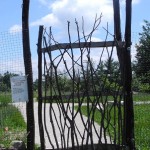 Situated at one end of land that was a former pig farm, the orchard is ringed by deer fencing and punctuated with handmade gates and posts of local locust wood.
They try to use local materials wherever possible: the paths are made from local limestone which, compacted for use, are firm and even enough for wheelchair access. The garden shed was built with reclaimed wood, recycled materials and volunteer labour; the compost included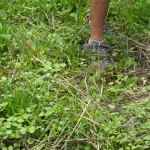 donated leavings from a local brewery (until the eau de organic matter put a halt to that ingredient).
Though water – and nutrients – are being carefully nurtured in the soil (groundcovers like rye and buckwheat are planted, and levelled with sickles), water will be an issue to be faced in the future because the cost of extending the water p
ipes is prohibitive for a nonprofit. So there are plans for a cistern and water harvesting in the works; meanwhile, in keeping with the permaculture principles being used in its design, the orchard boasts this swale which holds water along the contour of the orchard.
Efficient use of resources means improvising and using sustainable gardening methods. Permaculturalists love comfrey as a dynamic accumulator, its use as a green manure, and its size which kee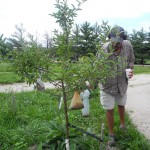 ps down weeds, so it's been planted around all the trees. The bagged decorations are actually weights intended to train the tree limbs into a horizontal or downward growth; and most of the trunks are protected with wrapping (rabbits and other rodents would be the chief culprits here, I suppose, as the fencing should keep the deer out).
We had time to have a nose round the nearby community gardens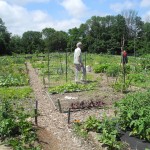 as well, where a few people were pottering around on a Friday afternoon. Things were looking pretty healthy, despite a lot of Japanese beetles sunning themselves on corn leaves; a reminder that community includes shared pests… like this potato beetle in its striped pyjamas.