There were 15 thematic streams running through the conference (though no stream was water, ha ha) and of course my interests leaned most heavily on stream 6: Food production, food consumption, and waste.
Which calls for some mention of foods consumed since arrival.
We wandered over to the nearby pub for a bite the first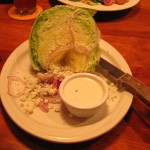 night, for a lesson in portions and the semiotics of Indiana menus. This is what "lettuce wedge" denotes in Bloomington:
while P's tuna salad with plantain and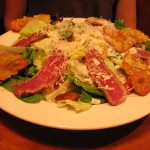 vegetative miscellany was similarly scaled for prairie sized appetites, and, one suspects, not targeted at locavores.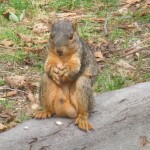 And speaking of size, check out this guy's paws! I was not in a squirrel-eating mood, but later that evening I did enjoy the Ethiopian meal which was all the more delightful for having been served at a restaurant which also had an Italian menu, as the owner is Italian-Ethiopian, which with the Persian chef, makes for some interesting food.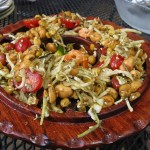 The other favourite was the Burmese restaurant which offered a Tea Leaf Salad and some excellent eggplant.
But. Turning back to the conference.
In Thursday's session on Food Aesthetics: from Modernism to Postmodernism, Jesse Oak Taylor – in Nose to Tail Modernism – addressed the foods of Ulysses as presented by Fergus Henderson in St John Restaurant and his cookbook Nose to Tail Eating: the 'everything but the squeal' menu (Upton  Sinclair, The Jungle); concluding that Henderson was aiming to teach readers how to eat as much as how to cook; that respect for the animal was often seen as part of this (not wasting edible parts) but that of course from the animal's point of view this was irrelevant ("dinner doesn't care about the sauce").
On the same panel, I also enjoyed Dan Philippon's talk Little House on the Foodshed, which looked at the idea of the Little House books as models of sustainable consumption and noted that modern day locavores Alisa Smith/J.B. MacKinnon, Barbara Kingsolver and Bill McKibben had referenced Wilder.
There were a couple of panels on food, film and ecocriticism. In one, Robert Boschman spoke on E.coli 0157: H7 poisoning – a personal look based on the life-threatening experience of his two pre-school children that led him to explore food safety from many angles, including the recent appearance of Cargill on the Oprah show; Dominique Laporte's well known work from the 1970s; Marion Nestle; and the curious repression of drug treatments (that saved his daughters) developed to fight E.coli poisoning. His concluding words were that the experience – and ensuing research – changed his family's eating patterns forever: although he lives in the heart of cattle country, he will not allow beef of any kind in his home.
Joseph K. Heumann followed, showing Our Daily Bread while speaking on Eco-Food Films: The Documentary Tradition; a little too interesting a film for a backdrop. And at that point I had to flee to prepare for my own reading, on the Creative Approaches to Food and Farming panel where I read food poetry and was thereafter most interested in Stella Capek's essay about cheese and bacteria, called A Fine Line.