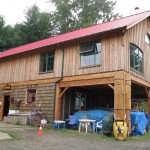 Another place I'd long wanted to see was O.U.R. Ecovillage, near Shawnigan Lake on Vancouver Island. A haven for green builders, permaculture designers, and people in search of collaborative and sustainable lifestyles, it's a half-finished dream with a population that ebbs and flows through the seasons.
The root cellar was the subject of a green building workshop last year, and progress was documented on this Youtube video. Like many of the other buildings it uses recycled materials in its construction: car tires and styrofoam blocks are part of its structure. Like everything that happens at the Ecovillage, the decision to use these materials was taken after lengthy thought and discussion, and the feeling is that it's better to put them into a structure where they have a purpose and are contained than into a landfill (at best). The styrofoam blocks they use are discarded tree plug trays – available by their millions, an otherwise useless and unsustainable byproduct of reforestation by the lumber industry. The community is also working its way through some 15 truckloads of reclaimed lumber – windfall timber that would otherwise have been sold as firewood or burned as slash.
Permaculture has always been part of the ideals of the Ecovillage; the Permaculture Design courses that are offered here result in projects of many kinds – garden, water reclamation and food forestry among others.
Food is a major preoccupation – it grows in various ways and places: in a deer-fenced garden and a new food forest that's under development around the property; pigs, chickens, cows and a rather majestic turkey are part of the scene, producing food and fertilizer. This greenhouse  recirculates water, heating it for a shower stall that's in the greenhouse itself.
The kitchen has been recently expanded so that it could accommodate the large and small mealtimes. During our visit a Zimbabwean music camp – Nhemamusasa North – was on, and there were 130 people for meals… all of them washing their own dishes in the wash station. Grey water gets filtered and reused, of course.
After that it was time for Canada Day celebrations. Here on the Gorge we have a street party that this year was graced by the queen, who also deigned to have her picture taken with neighbourhood dogs, and was then whisked away by canoe. There was of course food, music and a little dancing.