Our BC Virtual Seedy Saturday poetry lineup is out. Eleven BC poets will be featured among the talks that make up the three days of the event.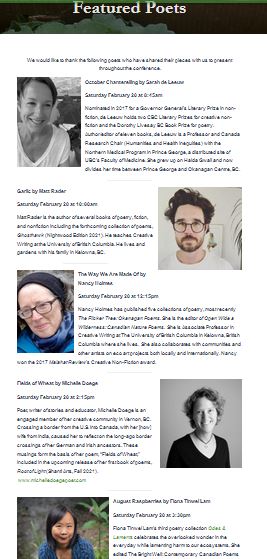 Some months ago, when the idea for a virtual event was mooted, I was talking to Carla Hick, one of the organizers from Farm Folk City Folk. She said they were open to all kinds of ideas, and the word "poetry" crossed her lips. I jumped on that and offered to organize something.
I conferred with a couple of people – Yvonne Blomer, who's well connected in the Island poetry community; and then Nancy Holmes, who teaches at UBC-Okanagan in Kelowna and knows many of the mainland and BC Interior poets.
It was Nancy who put her finger on the key issue: a regular poetry reading would not do, as our audience was not a literary one, but made up of farmers and gardeners whose focus is seeds, plants and the products of horti- and agriculture. She suggested something more multimedia. "Why not poetry videos?" she mused. Inwardly I cringed – learn another thing? Would there be enough BC poets writing around our subjects and comfortable with the technology?
Turns out there were! Farm Folk City Folk reckoned we'd have room for 10 videos, scattered through the weekend's program rather than posted as one long piece. In the end we've got 11 poets represented, and here they are, with the names of their pieces and the date/timing in the program:
Sarah de Leeuw – October Chanterelling – Sat Feb 20, 8:45am
Matt Rader – Garlic – Sat Feb 20, 10am
Nancy Holmes – The Way We Are Made Of – Sat Feb 20, 12:15pm
Michelle Doege – Fields of Wheat – Sat Feb 20, 2:15pm
Fiona Tinwei Lam – August Raspberries – Sat Feb 20, 3:30pm
Yvonne Blomer – Rhubarb, Death in a Garden – Sun Feb 21, 8:45am
Renée Sarojini Saklikar – Grandmother's Instruction, Sun Feb 21, 10:05am
Shelley Leedahl – Sometimes – Sun Feb 21, 11:15am
John Barton Malus Pumila – Sun Feb 21, 12:30pm
Rhona McAdam! – Wild Bees – Sun Feb 21, 1:45pm
Cornelia Hoogland – Seaweed, Sun Feb 21, 3:45pm
All the poets used their own poems and created new videos for this program, so check 'em out! Registration for the weekend is only $5 (or more if you want to donate towards a share that goes to the organizing nonprofits). See you there!