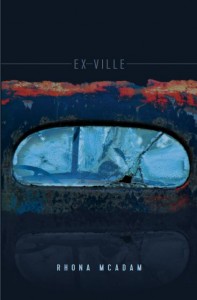 Dear readers,
I have been a sleeping blogger for these many months, but have awakened just as the leaves fall and the books launch.
After a suspenseful summer, I am more than pleased to report that my sixth full-length poetry collection, Ex-ville, has at last made its way to the printers and will soon be available from the good folks at Oolichan Books, and better bookstores near you.
Sporting a dynamite cover (from a photo by the marvellous Cherie Westmoreland) it includes poems never before seen as well as many that have appeared in such journals as Acumen, the Antigonish Review, Contemporary Verse 2, Descant, The Malahat Review, Prism International and Vallum, and some anthologized in the likes of Force Field: 77 Women Poets of BC, Poems from Planet Earth, Rocksalt and Walk Myself Home. I humbly hope you like it.
Over this silent summer I've been preoccupied by many things, not least the final months of study which have culminated in yet another string of letters to squeeze onto a business card. These letters are satisfyingly close to my own name, and I am now Rhona McAdam, R.H.N. I have enjoyed my time at the Canadian School of Natural Nutrition and will be able to keep my ties there as an instructor (Eco-Nutrition) going forward.
I continue to ponder the future of this blog – whether it can span food, poetry and holistic nutrition, or whether some other tool is needed. Meanwhile, for those wanting to follow my food security and urban agriculture interests, find me at my Digging the City page on Facebook; likewise I add literary notes and links to my Facebook writer page. See you here, there and everywhere!