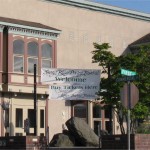 It's been a brilliant couple of days in La Conner WA, and the weather likewise. Cool blue skies over a flock of talent at this biennial event. Tonight's readings by Nikki Giovanni, Bob Hicok and Marie Howe were dazzling.
After admonishing one and all to be sure to record and archive readings such as these,  Giovanni explained to us mostly white folks what the agonies of hair care were for black women of her age, raised on flat ironed hair and a chronic fear of the moisture or heat that could bring the nappiness back. She had to explain to us what a "kitchen" was, so we could hear her poem The Wrong Kitchen.
Hicok ranged from proprietary leanings on his birth-decade, the Sixties, to the tender agonies of a mother with Alzheimer's, a topic he's worked before. His Speaking American was a delightful opener. We'd heard his name already in an afternoon discussion on humour in poetry, invoked by Tony Hoagland when he'd been asked whose poetry and sense of humour resonated (our own Lorna Crozier – brilliant in all the sessions I caught – cited Alden Nowlan and Susan Musgrave).
Howe finished the evening off with a painfully funny reading, including poems about her mother and her daughter, a new sequence about Mary Magdalene's seven devils, and a poem she said she'd like to retitle After the Divorce.
The best session of this friendly little festival had to be the marathon reading this afternoon at which every invited poet (and there were 31 of them) read a single poem. The earth-shakers for me included Elizabeth Austen's Untitled; Ellen Bass's Gate C22, Jericho Brown's Heart Condition, Karen Finneyfrock's What Lot's Wife Would Have Said (If She Wasn't a Pillar of Salt) (possibly my favourite poem of the weekend); and Tony Hoagland's The Social Life of Water.
Those of you who've heard me rant about festivals that cram poets into cattle-car readings rather than letting them roam the stage in twos and threes like prose writers may find my delight in this reading surprising. But here it was a sampler, an opportunity for a fully-packed autditorium to hear all the poets – not just those who the tight scheduling of a two-day festival would allow. And to hear poets of such calibre reading one fine poem after another was a pure pleasure.
So, one more day in La Conner, with its smart shops and casual oceanfront air.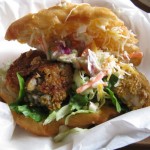 And its amazing oyster tacos from the Swinomish seafood kiosk, Legends Salmon Bar, which were so delicious in their frybread wrappers I had to have them for lunch two days in a row.