I'm delighted to have a poem included in the current issue of the Irish environmental literature journal Channel.
The editors accept poems from around the world and have managed the question of how to celebrate each issue with a launch by inviting participants to record readings and some photographic context. Then they put it all together and livestream it!
I read two poems from my upcoming book Larder, and sent some photos which the editors invited us to provide, to give context to the contributors' lives and environments.
This issue is celebrated on Thursday November 11 at 8pm GMT – which for me is noon in Victoria. See you there?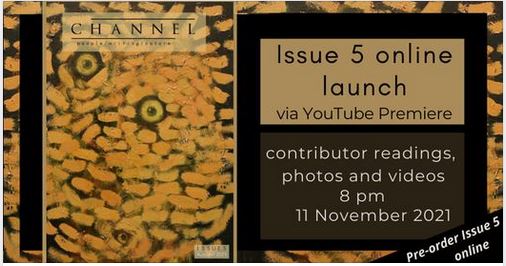 (From the Facebook event page🙂
Details
We're delighted to announce that the launch of Channel Issue 5 will take place via YouTube Premieres on Thursday 11 November at 8.00pm.
The online launch will feature readings by Irish and international contributors drawn from a pool of over 1800 submissions, along with photography capturing the settings that have inspired their work. We love the poems and stories gathered in this issue—ambitious, disruptive pieces that seem at home in the flux we're living in today—and we can't wait to share them with you all.
Also featured will be an introduction to the work of our Issue 5 cover artist, Kevin Mooney, a Cork-based painter whose practice explores the migration of Irish people and the gaps wrought in Ireland's visual culture by this history of displacement. Kevin's current exhibition, 'The Erlish Tide,' opened in the Excel Gallery, Tipperary, on 30 October, and features large-scale paintings informed by his research into the history, mythology and folklore of Samhain and Halloween. 'Peasant,' the painting featured on our Issue 5 cover, is taken from a body of work exploring links between the folk cultures of Irish émigrés and the cultures of the Caribbean.
Issue 5 is now available for pre-order via our website at https://channelmag.org/current-issue/.

Those who can afford to further support our work may consider subscribing to Channel to receive each new issue upon its release, or becoming a patron to also receive access to our digital archive of back issues as well as acknowledgement in print and online.
The launch video will be viewable from our website at the time of its release, or open the video in YouTube to chat with other readers and contributors during the event. We look forward to seeing you there!