Managed to squeeze in a little visit to Parma, to see how the place has changed in the four years since my last stop here, and check out the Christmas madness.
For madness it was when I arrived on the last Sunday before the visit of Babbo Natale. It seemed much more commercialized than it had been just five years ago. Shopping frenzy. Christmas market. Everyone out on via Farini.
I've been stomping the old grounds to see what's new. As we might expect, much is the same, some things different. Sorelle Picchi where I had supper last night has gone much more upmarket, and there is less grump in the proprietorship: the tris di tortelli remains on the menu, and was good, but not as good as the semifreddo allo zabaione and the lovely glass of Passito di Pantelleria to finish.
As I'd always meant to go there, I had earlier lunched at Apriti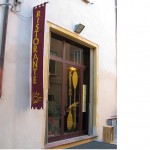 Sesamo, Parma's lone organic vegetarian restaurant where vegans, coeliacs and macrobioticians have been finding solace for a decade and a half. It's tucked away behind the train station – currently undergoing a major facelift – and is small and friendly. The food is not pretty – vegan food leaves me feeling there must be something one can do to jazz up a plate of whole grains – but it's tasty and filling and the place has a loyal following. The menu offers three courses which are served on a single plate. Mine was sformato di riso integrale (rice and whole grain cake, or square), radici al forno (roasted root vegetables) and torta di seitan (savoury gluten pie).
After lunch I went for a walk in the Giardino Ducale which was much as I remembered it, and strolled along the Torrente Parma looking for nutria, and spotted a gang of them huddling for warmth.