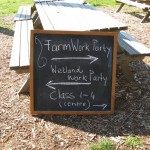 Managed to get to my first Haliburton Farm work party on Saturday. A lovely day for planting spinach, which we then covered with row cover to keep the critters out and give it some warmth while it grows. Might be the solution for my own garden where the leafminers dine well on all my leafy greens. Meanwhile, back in the kitchen Naomi had whipped up one of her nourishing soups for lunch, which we ate with some bread from her local organic bakery, and then ended the work party early. We had to clear out to make room for the new course running there, Growing Food in the City, but that left the better part of a (finally) sunny afternoon to play in our own gardens.
I was delighted to come across this clip of local TV coverage showing off Haliburton's farmers. Thanks to Permaculture BC for posting it.

Of those featured, some extra info: Farmer Derek is in the process of taking over Carolyn Herriot's organic seed company, Seeds of Victoria, and Farmer Ray will be showing his considerable skills in compost building to attendees of the next COG-VI meeting that takes place at the farm next week (Canadian Organic Growers is another endangered species due to funding cuts – membership an inexpensive and hugely worthwhile way to help support organic farming – join today!).