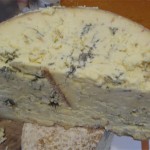 Before April goes out like a lamb, let me share some cow's milk cheeses with you – much enjoyed at the Cheese & Blues event that Hilary's Cheese presented in Cowichan Bay last week. Pictured to the left is the king of British cheese, Colston Bassett Stilton, which goes down well with port generally but which paired acceptably with the blackberry dessert wine on offer that evening.
Don Genova was the honorary cheesemaster, forging his way through cloth-wrapped cheddars (Keen's and Avonlea) and hefty wheels of Shropshire Blue alongside Hilary and Patty. The cheeses – except for the PEI cheddar – had been imported from my spiritual home-from-home, Neals Yard Dairy in Covent Garden, London.
Sunday evening I joined a poet's dozen (i.e. I lost count) and read a poem from the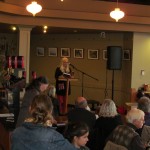 magnificent new anthology, Force Field – 77 Women Poets of BC, introduced by publisher-poet Mona Fertig, and hosted by contributor Yvonne Blomer. The place was packed, the readers disciplined and the audience appreciative. We drizzled off through the rain to a delightful after-party where we solved a few of the world's problems before retiring.
Last night was the long-awaited Food Talks event at the Belfry, where this year's local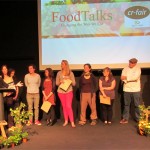 Food Champs were invited to speak their piece before the winner was named. Some superb nominees both present and unable to be there included: Maryanne Carmack – for the Victoria Downtown Public Market Society (Victoria's public market opens July 2013); Haliburton farmer Derek Powell – for his involvement in Victoria's Food Swap Program; Miranda Lane – who works with people with multiple challenges at the Community Kitchens Network; Kim Cummins – for the Camosun FarmBox Program which organizes markets and food boxes at local college campuses; Naomi Lyons – for Stone Soup's community building and micro-lending fundraising; Dwane Maclsaac – for the Island Chef Collaborative's micro-finance initiative; Elizabeth Upton – on behalf of Meadowbrook Farmily (4 local Victoria families that farm together); Jeanette Sheehy – for LifeCycles' many projects, but particularly the Growing Schools project; the Salt Spring Agriculture Alliance – for the community abattoir; and the Sooke Food CHI for their work on the Sunriver Community Gardens and Sooke farm bike tour.
And the winner was… Miranda Lane, Community Kitchens Network, with Kim Cummins, Camosun FarmBox a close second. She is shown below with CRFAIR coordinator Linda Geggie, evening MC chef Heidi Fink, and Kim Cummins. Other pics L-R: chef Heidi with chef Dwane MacIsaac, Naomi Lyons, Derek Powell, Kim Cummins, Elizabeth Upton.