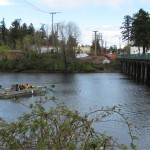 All blissfully quiet at my end of the Gorge these days, now that Craigflower Bridge has been closed for rebuilding and traffic re-routed. I was gratified to learn that not only were there viable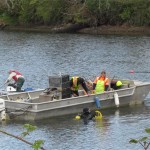 oyster beds in the Gorge, but the planners had taken steps to relocate and preserve them so that the construction does not do away with this rare species (for the next eight months or so). These are our native Olympia oysters, not the Pacific upstarts introduced from Japan that now dominate the West Coast's shoreline and oyster farming operations. I happened to pass what I assume to be the relocation action as it was unfolding and snapped them at it.
Meanwhile, I've been spreading myself thin in recent weeks, trying to keep up with different social media (Twitter, Facebook and most recently Pinterest), working on some of my own writing, and going nose to grindstone with my holistic nutrition studies. We're deep into preventive nutrition this month, studying up on nutritional approaches to digestive, blood sugar, cardiovascular and arthritic conditions. Quite a ride.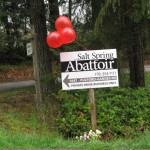 On Friday I returned from Nanaimo via Salt Spring Island where the community abattoir was officially launched with an open house in the drizzly rain. I'd visited earlier this year but was interested to have a look at the finished structure. There is more work to be done if larger animals (cattle) are to be slaughtered here, but it's up and running for poultry, rabbit, goat and lamb. It's going very well so far: an arrangement with a local farmer has meant all the offal and skins are being composted, which has taken one of the main economic headaches for an abattoir out of the picture, and has solid community support – no small achievement for this kind of business.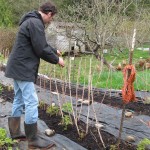 Saturday I took in a workshop on perennial fruit crops at ALM Farm in Sooke, in which farmer Jordan took us for a tour of the farm's apple, pear, fig and plum trees, kiwi vines, strawberries, raspberries, rhubarb, Jerusalem artichokes, hazelnuts, gooseberries, herbs and asparagus before I had to whistle off to take my place behind my books, alongside the Haliburton farmers at the Reynolds School Eco-Fair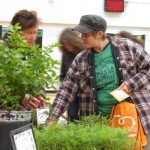 . It was a lively and well-attended event with speakers including Green Party leader Elizabeth May and Brandy Gallagher from O.U.R. Ecovillage, and lots of well-chosen information tables, including Pedal to Petal, LifeCycles, Growing Young Farmers, Organic Gardeners Pantry, BC Sustainable Energy Association and more. The Hali stand was peddling organic food boxes (CSA subscriptions), seeds, plants and good advice.