Last weekend's Vancouver Island Music Fest was blessed with warm weather, peaceful crowds, some good food and great music.
It kicked off this year with Alison Krauss & Union Station playing a separate Thursday night concert. I've seen her a couple of times, so although I consider her to be both the bee's knees and the cat's meow, I took the more affordable option of skipping that, and waiting until the festival weekend pass kicked in on Friday.
Which gave us a chance to enjoy a leisurely Thursday night dinner of pasta dressed in garlic scape pesto, that was kindly included – courtesy of Farmer Derek – in the first Haliburton food basket. Which also included organic greens for the salad.
Friday night highlights were Red Horse (Eliza Gilkyson, John Gorka and my longtime favourite Lucy Kaplansky) followed by real Vegas magician Jeff McBride who provided some harmless fun. We left the next generation to enjoy Arrested Development so as to be fresh for the Saturday morning visit to the Comox Valley Farmers Market, which happily for us takes place right next door to the festival site.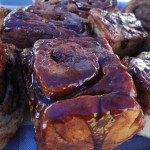 Though the snackable carrots were long gone by the time we rolled up, the Willowvic Farm cinnamon buns were not, and nor were some particularly delectable spinach & feta croissants from Alderlane Farmhouse Bakery. And there was the watermelon radish which Big Buzz AcresFarm from Campbell River was selling to my great delight because I've just planted some myself.
There were a lot of stands with some good looking foods and regular customers who bring their own shopping barrows, apparently. One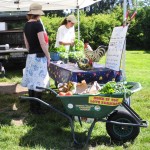 surprise was to arrive and hear what sounded like a Stan Rogers cd playing, only to discover that it was in fact his son Nathan singing live, whose cross to bear is a voice very much like his dad's, and perfectly suited to singing his father's repertoire.
On with the day. As usual, far too much to choose from, but I lucked into a workshop called The Magic of Music which introduced me to the wonderful Celso Machado, whose percussion antics so entranced his fellow performers they started filming him.
The Broken Hearted Song Circle followed, with a stellar lineup (Jon Anderson, Rodney Crowell, BettySoo, Leela Gilday and  Gurf Morlix) and then it was on into the barn and Songs for Reason to discover some good ol' boys – Atomic Duo – from Austin: highly entertaining all round.
A Melancholic Frolic followed, featuring Lucy Kaplansky, JD Edwards, Eugene Smith, Morlove, Devon Sproule — and a rare treat for me to see Daniel Lapp again; I'd only seen him once and he was incredible,  but at subsequent appearances I've caught, he's given the stage over to his students – he's a
much-admired teacher and mentor to young musicians.
"Don't worry," he told us,  "it's not broken" – as he detached and then slung the strings of his bow over the fiddle and proceeded to make some great sounds that left the others on stage gaping in delight. Edwards was good, if having a bit of trouble with his coiffure  at times; always a pleasure to see  Smith; but I was mostly there to see
Kaplansky who jammed with the others just like she oughta.I stayed for a few numbers by  Steve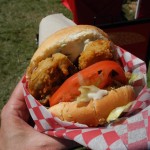 Riley and the MamouPlayboys but the beer tent beckoned, and I also caught the unmistakeable sound of an oyster burger murmuring my name from Bob's Burgers.
So then it was Saturday evening mainstage performances, starting with Jon Anderson, followed by John Jorgenson & Albert Lee – surely the stars of the evening. After which Randy Newman, more entertaining than I'd expected. We left before the Travellin' McCourys & The Lee Boys mixed it up in ways that just sounded like more than I could handle before bedtime.
Sunday had a slowish start for me but quickly peaked at a workshop called Guitars! where Albert Lee and John Jorgenson, with Celso Machado, quickly stole the show, although Bill Coon and Darren Radtke rose to the occasion as best they could, particularly with the closing number (Crossroads). But the standing ovation encore rendition of Orange Blossom Special was quite a moment. And not a fiddle to be seen..
A sense of anticlimax prevailed during the final workshop (Hope ya Like Jammin') what with abysmal failure of sound systems to cope with some 13 musicians (Steve Riley & The Mamou Playboys, The Travelin' McCourys and The Breakmen) not all of whom, ahem, played nicely with the others.
It's easily said from my side of the stage that the best workshops are the ones where everyone jams – such rare opportunities and odd combinations – and yet other sessions end up as fairly pointless one-after-anothers.
So in that sense Rodney Crowell's workshop appearances were disappointing  – no jamming on his stages – and he sang songs (and not always his best numbers, imho) that he then repeated in his mainstage performance Sunday night. I'm a longtime fan of his so can't believe he wouldn't want to make more of his considerable repertoire. I guess one gets tired of one's own words after a while. Anyway, I like most of Sex & Gasoline which was one of the few cds I bought this year (economy, economy) despite the fact I didn't like most of the songs from it that he sang in workshops. Go figure.
The other Sunday nighters – Holly Cole, Night Train Music Club and David Crosby – were, shall we say, just not what I was looking for. And so it ended for another year. Kind of expensive, food-wise: most plates were $10-12, and there really wasn't much of interest in the vegetarian offerings. And the vegetarian meals were pretty much always the same price as the meat ones, which means the veggies were subsidizing the carnivores: a wrongness if ever there were.
Sadly, very sadly, I had to leave all these fellers on the beach too,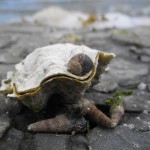 as it's red tide. Odd to see the coolers standing empty at the Fanny Bay Oysters Seafood Shop.