It was an intense ag-food weekend starting with Seedy Saturday at the Victoria Conference Centre. Many were the crowds, nigh on as numerous as the seeds on sale, and much was the diversity on offer. I was helping out at the CRFAIR stand, conveniently situated next to Jacob of Salt Spring Sprouts & Organic Mushrooms, who is always generous with his samples. I also sampled some excellent banana pancakes made by chef Joseph from his bean flour pancake mix. Managed to escape with only one package of seeds, this one from GTUFer Kendell Nielsen, PAg, who had dropped off some mini-spaghetti squash seeds that caught my eye. I did not need her giant Jerusalem artichokes though they were beautiful. There was a very busy table of volunteers repackaging the donated seeds, and a large variety on offer (free for trade or $1 a package).
My book was on sale at the CRFAIR table (near the giant rutabaga); Verna & Bob Duncan talked fruit and fruit trees at their very popular stand, and it was spring all over the place with tender snowdrops and other spring shoots waiting to be taken home. There were many workshops as well, including a preview of the Changing the Way We Eat food talks which are upcoming at the Belfry Theatre in late April. Watch this space for news..
Sunday was a double whammy. First, the GTUF meeting, in which Gabe Epstein and Belle Leon shared some photos of community gardens in Victoria, Seattle and South Africa, and invited discussion about the nature and purpose of community gardens in our area. Then we broke for snacks – including two glorious pizzas hand-crafted by local caterer Eugene Monast who has often blessed us with food at our meetings. GTUFer Robert Baker had brought a basket along to show what he'd harvested from his garden that morning, encouraging us to make the most of winter growing.
And finally it was on to the VIVA-RAW monthly potluck, to see what delectables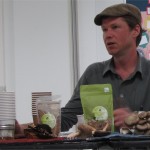 were on the table and to hear Aika Tuomi talk about mushrooms. He focused on shiitake, reishi and chaga mushrooms and did a good plug for mushroom powders and extracts on sale where he works, Ingredients Health Foods.
And the raw food we ate: below, a delicious and beautiful salad featuring pomegranate, kiwi and avocado; seedy flax crackers; mock salmon (walnut) pate (my contribution); zucchini noodles; ingredients list from some cocoa-date cookies; and finally the groaning plate which features everything but the late-breaking and improbable-sounding but gorgeous salad of mango, citrus and sauerkraut.