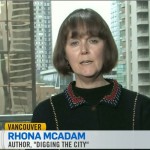 I was over on the Mainland earlier this week and spent three days enjoying many things, including a tour of some urban agriculture in practice, Terra Madre Day celebrations Vancouver style, and a few minutes in the public eye to promote Digging the City.
On Monday afternoon I was delighted to be able to meet up with Emily Jubenvill, community liaison with the Edible Garden Project in North Vancouver. They use a mixture of community gardens and corporate partnerships to grow food, teach gardening skills and increase the amount of food growing going on in the community.
They'd planted an urban plot behind a skateboard shop which demonstrated a couple of the problems that can arise with urban growing. The shop's ownership was about to change, and so the garden's future is as uncertain as on any borrowed land. This is something that affects SPIN farmers and other farmers working under leases rather than secure tenure: it determines the kind of crops they can grow and the amount of long term planning they can do. And then there's urban vandalism: a ripped polytunnel and a few torn plants here; earlier at the community garden we'd passed a sign asking people not to steal the vegetables.
One of EGP's high profile projects, Loutet Farm, was built on the underused edge of a city park with considerable help from private and public funds. It's a place for workshops and demonstrations, but mostly it's land for growing food, which can be sold to raise money to fund green jobs in the community. Its success, Emily thinks, is due in large part to the fact they can pay a farmer to manage it: anyone who's struggled with the ebb and flow of energy and funds around community garden management – or any other social enterprise run by volunteers – will understand what a big deal it is to be able to have someone in charge! On our visit the drainage was being revamped with the help of some grant money and a lot of free muscle. An apiary was under construction as well: this being North Vancouver, it has to be bear-proof: the sturdy mesh cages for the hives will be sunk into concrete before they're stocked next spring.
Monday evening was of course Terra Madre Day everywhere, a global celebration of local eating. As I was missing the carnivore culinary book exchange that Slow Food Vancouver Island was hosting, I was grateful to catch wind of Slow Food Vancouver's  c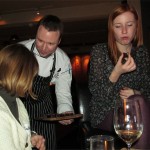 elebration, which took place at Chill Winston in Gastown. Chef Derek Bothwell is a hand-crafter if ever there was, and brought many of his wares for us to sample. Ingredients included house smoked steelhead, bison (he's an Alberta boy, originally), a pretty amazing lentil caviar, and local pork belly, with some salt caramel chocolates to finish. We ordered some nice limey crab cakes, smashed potatoes and wild mushrooms to tide us over in between.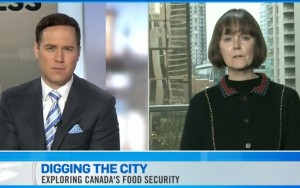 Tuesday I made my television debut on CTV with a short spot on a noon show where I was grilled on food security in Canada. You can still catch my moments here.