How busy can one month be? Very very in September's case. Here it is October and I'm still rushing. A quick review will show why I've been too crazed to post, though it's been delightful and stimulating.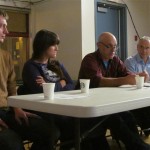 Friday Sept. 21 was the long-anticipated (by me, certainly) panel discussion featuring visiting baker Andrew Whitley, community-supported fisherman Guy Johnston and urban farmer Angela Moran, with her chicken wrangler Trevor van Hemert. Whitley kicked off with a description of the organic baking career that led him to his current life as a baking instructor and organic activist. He is helping to launch a local community supported baking enterprise, and through the Real Bread Campaign which he co-founded, to raise awareness about different ways to promote bread in communities. Johnston described his two-year old community supported fishery, which helps him keep his boat in the water and his family in the sustainable fishing business. He urged us to join in the October 22 protest against the Northern Gateway Pipeline, which will endanger the livelihood of all those who fish in west coast waters. Moran and van Hemert have arranged with eight neighbours to share both chicken-shaped responsibilities and egg-shaped outcomes so that Moran's urban farm is able to keep its flock of laying hens. They've come up with a model agreement they want to share with others to spread the joy of shared chicken ownership.
Saturday we put Andrew back in the kitchen to lead a breadmaking workshop for a lucky baker's dozen who were spared the cost of airfare to Scotland to take the class at Bread Matters. In the beautifully equipped domestic science lab at Royal Oak Middle School, Andrew and the participants faced some challenges with the limitations of domestic ovens and unfamiliar flours while he shared some of his knowledge about bread, flour and the state of grain in the world today.
Sunday Sept. 23 marked the first offering of the Flavour Gourmet Picnic, held at Coastal Winery in Black Creek, just north of the Comox Valley. I'd been to Feast of Fields and the Island Chefs Collaborative festivals, and thought it would be interesting to experience a north Island event. Andrew & Veronica joined us to sample the many, many wares on offer at a gentle, sun-warmed and well-organized afternoon of sipping and tasting. One of those who'd attended Andrew's talk to the VIU Professional Baking program in Nanaimo the week before was there with her Church Street Bakery breads, and he make an appearance in the rather lovely video made to commemorate the day (accepting one of the most delicious items on offer: a piece of chocolate pave from Kingfisher Lodge).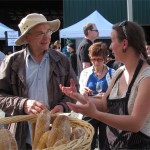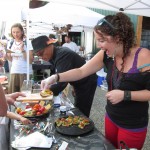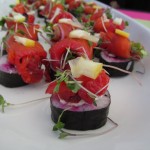 On Monday, after a relaxing morning gathering oysters for supper, we headed back to Victoria where I attended a meeting of the Victoria Horticultural Society's Veggie group – one of the members was explaining her planting calendar and use of cover crops, which is something I'd like to do better even in my tiny garden.
By Wednesday 26th Andrew & Veronica were packed and ready to leave, but not until we'd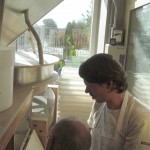 stopped in to see Cliff Leir's operation at Fol Epi. He'd described his grain soaking and flour milling operations at the Kneading Conference, but seeing the tiny space in which the magic happens made it the more special. Good things, small packages etc. (and the pumpkin pie and sausage roll we sampled, among other treats, were formidably good).
Wednesday evening arrived promptly and after a small misspelling on the poster had been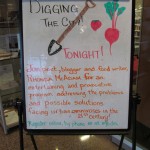 swiftly corrected (yes, I pine still for England where there is never a D in my name) the maiden voyage of Digging the City took place in a room in my local library filled with interesting and interested people, many from GTUF.
Thursday saw me back on the farmstand at Haliburton and then back on the road to Nanaimo where we were discussing vitamins and minerals in the CSNN introductory holistic nutrition course. Fascinating but mind-blowing.
Friday 28th I went to a permaculture potluck to hear Brandon Bauer, one of the instructors in the permaculture design course I took earlier this year, talk about his work replenishing the soil on his property on Salt Spring Island. He's currently teaching a permaculture and site planning workshop and as ever had some pithy things to say about his own experiences in those areas. Saturday was a workshop on tenancy management (better late than never) that was fascinating and offered by one of the very knowledgeable souls at ROMS. That evening we went for supper at the Moon Under Water brewpub which I hadn't had a chance to try out, and enjoyed my Fanny Bay Oyster Burger for auld lang syne.
Sunday was my weekly family dinner, plus some lying-in, sitting-down and catching-up, which meant I missed the Saanich Sustainable Food Festival and the 5th Annual Chef Survival Challenge and Feast at Madrona Farm… I'll get to one of those one of these days… AND the Slow Food Terra Madre fundraiser Last Hurrah At Orange Hall.
Monday it was suddenly October, and I joined some other GTUFers to talk about food security at Gorge-ous Coffee, our newly opened local hangout. While we did not quite set the world to rights, we had an interesting chat about foraging in the neighbourhood, rooftop gardens, preserving skills, grafting tours and nut trees, among others.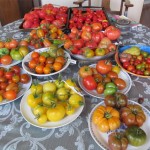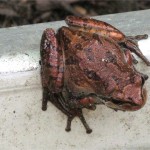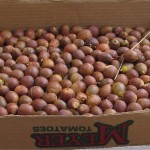 After a quasi-restful Tuesday in which I attempted to catch up on a few more things, like a bit of light tomato canning, and a chat with my neighbour who'd attracted a frog to his garden, and a bit of acorn gathering, it was suddenly Wednesday and time for the debut screening of Symphony of the Soil, Deborah Koons Garcia's (The Future of Food) second feature film  and an excellent one it is. It explains very beautifully what soil is, how it produces food (not just for humans) and how it can be preserved and nourished. Recommended viewing for all living things. We too were nourished with birthday cake as the occasion marked Open Cinema's tenth anniversary and afterwards there was a panel discussion with Robin Tunnicliffe, Heide Hermary and the filmmaker.