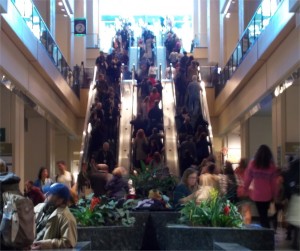 Entering day 3 of AWP 2014 – and the first overcast day we've had. Sun shone on the 12,000 writers toiling up and down the escalators of the Washington State Convention Centre, on their way to windowless rooms and intellectual overload. I've been concentrating on panel discussions to do with the less lofty aspects of a writer's life: preparing book proposals, building audience, marketing strategies, grappling with the onslaught of social and other media that are required tools of the trade nowadays. I've been to sessions on creative nonfiction – head's a whirl with present tense, past tense, first and third person points of view.
So far have barely managed a peek at the book fair – a couple of thousand booths I think –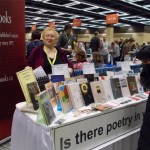 featuring Canada's own Brick Books, with Kitty Lewis presiding. And made it to only one reading, last night's, when I had a tough choice to make: Robert Hass, Eva Saulitis, and Gary Snyder or Gretel Ehrlich with Barry Lopez, and opted for the latter as I hadn't had a chance to hear Lopez before, a good champion of environmental thinking.
Lopez was not the only creative nonfiction superstar here. It was standing room only for Thursday's The I or the Eye: The Narrator's Role in Nonfiction, which featured Phillip Lopate, Robert Root, Lia Purpura and Michael Steinberg (Elyssa East had been unable to make it, though the panelists seemed united in their admiration for her book Dogtown: Death and Enchantment in a New England Ghost Town). I was fading at that point – a poorly-timed cold – but Lia's poet's sensitivities spoke well to me (be more alert to qualities and increments of thought than focus on which voice is best for telling the story, she advised). The general gist, I suspect, was that the narrative voice depends on the story being told. But it's always good to have erudite spins on that thought.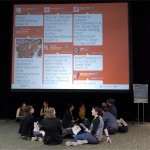 I've spent a fair amount of time at panels about a writer's use of new media. The one on Twitter was, ironically, booked into a room with no Wifi access, which hampered the reportage from the resident tweeter. In fact chairs have been set aside in every session for registered Twitter users: check #AWP14 for full coverage. People at the conference have the luxury of a tweet wall which should be flowing with the continuous fullsomeness of what's been said here, but it was stationary the couple of times I'd passed it. Time enough for all that later. On with the final day's sessions.